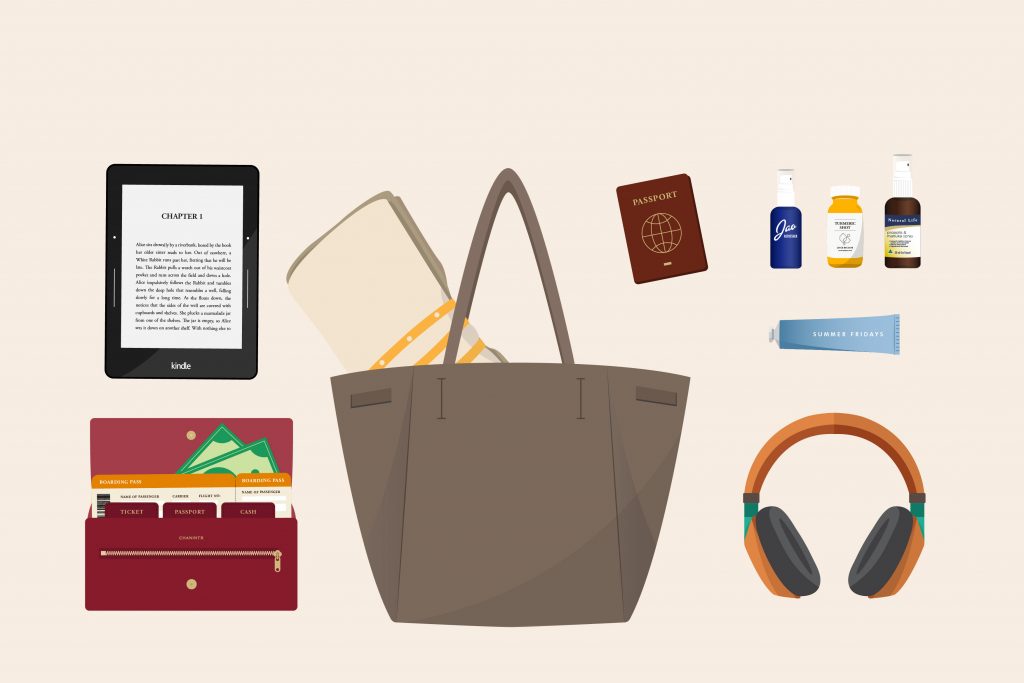 Carry-on Essentials We Can't Board Without
25 Jul, 2019
By now, you probably know about the cost of flying. Beyond leaving a dent in your wallet, the consequences of air travel include exhaustion, dehydration, oxygen deprivation, pains and aches, as well as exposure to illnesses from your sick flight mate three seats down. As frequent flyers ourselves, we're constantly on the lookout for products that can make our time in the air more pleasant. From good reads to noise-cancelling headphones, here is the list of items we always carry on and refuse to board without.
1. Noise-Cancelling Headphones
We don't remember how we used to survive flights before the conception of noise-cancelling headphones. Thanks to technology, we can now fall asleep during red-eyes even with chatty neighbors and crying newborns around. Our favorite has always been Bose QuietComfort 35. The plush cushioned cover means we can wear these active noise-cancelling headphones for hours comfortably.
2. A Good Passport Holder
Airports in general are overwhelming, but a nice, trusty passport holder can make all the difference. We've been using Smythson's Mara Marshall Travel Wallet for a while now and love how functional yet fashionable it is. The labeled compartments help us stay organized all trip.
3. Compression Socks
Compression socks is the answer to all our flying discomfort. Designed to apply pressure to your lower legs, they help maintain blood flow, while reducing soreness, aches and pain. Health experts recommend them for long flights as well, as it reduces the risk of swelling, or worse, deep vein thrombosis. Basically, you can't go wrong by stuffing a pair of these in your carry-on luggage.
4. Kindle
Flights are the perfect time to disconnect and start attacking the reading list you've been forced to put off because of your busy schedule. We highly recommend investing in a tablet or e-book reader, as it means you can read multiple books on your trip without the unnecessary bulk.
5. Summer Fridays Jet Lag Mask
Did you know that the humidity on planes are comparable to being in a dry desert? Kiss that dry cabin air goodbye with Summer Fridays Jet Lag Mask. Known to jetsetters as the life-saving, carry-on moisturizer, this uber-dewy, hydrating product soothes thirsty, stressed-out skin by steeping cells in a nourishing mix of vitamins, ceramides, antioxidants and gently exfoliating extracts.
6. Jao Refresher
Planes are one of the dirtiest places you can sit in. We always bring along a bottle of the multipurpose, "not just for hands" Jao Refresher, an instant disinfectant and aromatherapy boost in one. The refresher kills germs and freshens hands with ethyl alcohol (less drying), and smells heavenly while doing so. Use it on your hands and body for a quick pick-me-up.
7. Oyuna Cashmere Travel Throw
Meticulously and sustainably sourced in Mongolia, Oyuna's cashmere is as soft as it gets. Their travel throw, which can be rolled into a compact size and held in place with a thin leather belt, is perfect for keeping you warm and comfortable on flights.
8. Tumeric Shots
Our internal sleep rhythms don't adjust well when we cross into a new time zone, leading to exhaustion and jet lag. What's more – long, dry flights can also leave travelers with migraines and dehydration. But what if we tell you there's a remedy for it all? One word: turmeric. A powerful natural anti-inflammatory, turmeric will help you avoid headaches, joint pain and muscle aches. Take it as a shot or a supplement pill in the days leading up to your travels, and in flight, and we promise you'll feel a difference when you land.
9. Propolis Spray
Made by bees from the buds of poplar and cone-bearing trees, propolis is an antioxidant and anti-inflammatory agent that acts as your bodyguard in a bottle. Propolis has incredible germ-fighting properties and even contains vitamins, minerals and compounds, making it the ultimate immune support booster.