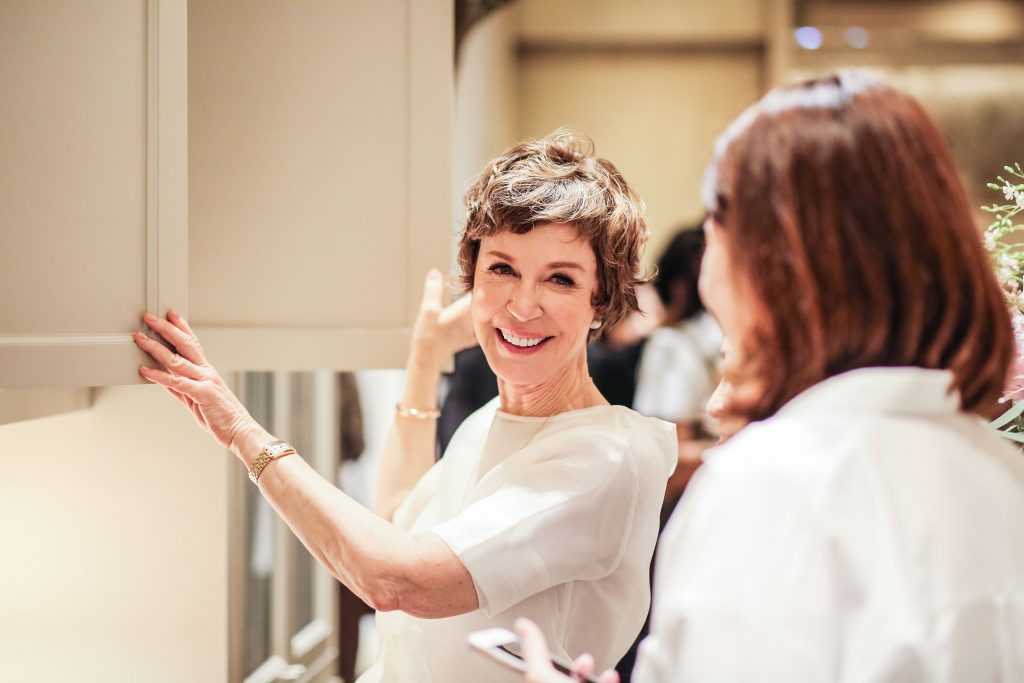 Q&A With Barbara Barry
17 Jun, 2019
Since starting her design firm more than 30 years ago, our dear friend and award-winning designer Barbara Barry has risen to become one of the most sought-after interior and product designers. From her collaboration with Baker furniture to exclusive residential projects around the world, Barry is the perfect advocate for our company motto, Living Well.
During her trip to Bangkok last month, we made sure to sit down with the Southern California-based designer and ask her exactly what Living Well means to her, how the definition has changed throughout her career, as well as hear about her goal for the new Siam Paragon flagship showroom.
CHANINTR: Over the years, has the definition of Living Well changed for you? If so, how?
Barbara Barry: Moving from the city to the country has had a huge impact on my life and ultimately on my own well-being. Here I have learned to slow down and take in the beauty that surrounds me much more.  In taking 5 minutes to sit and watch the sunset I ruminate on how important the natural world is to me and the joy I get from sitting quietly and observing it. More and more nuance is revealed to me; I see patterns and relationships and how they produce harmony.
"The world is a canvas for our imagination." – Thoreau
The world that surrounds me now is so beautiful that I feel its spell. From my home, which is all glass, I am aware of the light changing throughout the day. I take things in on a much more visceral level than before.
I have learned what is really important in my home too such as the components that make up my home. My fine sheeting… my thin porcelain, drawing a warm tub and sitting in a comfy chair with a luxurious throw… these elements give me the feeling of luxury that I have worked so hard to find. Living well has taken on a new meaning for me. It is not about how much I have, but how what I have supports me.
CHANINTR: What did you want to achieve with your new Siam Paragon flagship store?
Barbara Barry: I wanted to bring the essential elements of living well to my home (the new store) in Bangkok. To make the store a true reflection of my home where everything is curated and considered. I have searched the world for these essentials over many years and have lived with them and believe in their merit. It is thrilling that CHANINTR will have them exclusively in Thailand and many were designed especially for the new store.
CHANINTR: Can you talk about the products being sold at the flagship store? How did you curate the items? What are some of the products you designed exclusively for CHANINTR?
Barbara Barry: Many of the items I have been living with and couldn't live without like the Italian Percale from Florence, or the fine porcelain from Austria have been sourced directly and designed specifically for the store. As I said they are the foundation to my everyday life and I wanted to animate this new store with them because fine things reflect the fineness in all of us.
There are a lot of luxury brands that are run corporately without a human being as the single spokesperson behind them. Not true with me. I have traveled to the place where these items are made, I have met the artisans to see how things are made, and I have lived with these items for years. They have my stamp of approval as best in kind in each category.
It is a unique concept that will continue to grow and change as I grow and change. The Italian sheeting of crisp Italian percale has been designed just for CHANINTR. It is, in my opinion, the finest sheeting in the world, the epitome of simplicity and quality with the smallest but perfect edge detail. The new Coupe dining chair is also an exclusive. It is generous and curved and comfortable and it serves as both arm and side.
One of my favorite items in the store, and one I could not live without is the Pink Peony Catchall.  It carries everything from flowers to the farmer's market veggies, to laundry to toys. It is perfect for boats and planes as it always stands up, never falls over and you can wash it. Once you have one you will want more.
So in the end I believe that whatever you are doing you can do it with beauty and I want to bring that beauty to Bangkok.