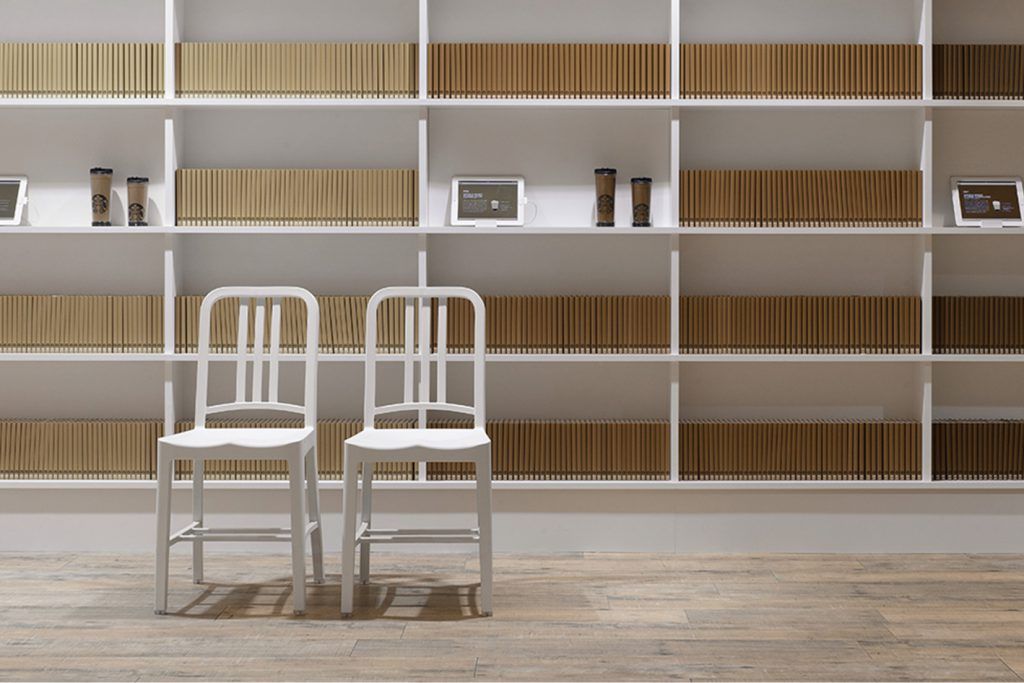 The Story Behind Emeco's Navy Chair
19 Aug, 2019
There is no doubt you've seen Emeco's Navy Chair before. Perhaps you've sat in one at a restaurant, spotted it at a hotel, or have even noticed it on television (we like to call it the go-to chair for police interrogation scenes). What you probably didn't know about Emeco's most ubiquitous chair though, is that it comes with a fascinating story involving World War II, submarines and American manufacturing at its finest.
In 1940, the United States government gave Emeco a big assignment: to make chairs that could withstand water, salt air, sailors and torpedo blasts. It had to be lightweight and portable, yet strong and durable. For Wilton C. Dinges, the founder of Emeco, aluminum was the obvious choice. Through its now-famous 77 steps, which takes three days of work by 12 to 14 different craftsmen, Emeco turned ordinary aluminum extraordinarily strong, creating the iconic 1006 Navy Chair. The chair was so durable, it far exceeded the Navy's specifications. It weighed only seven pounds, but had an estimated life cycle of 150 years. This was design, engineering, material know-how and American craftsmanship at its finest.
Inside Emeco's Factory in Hanover, Pennsylvania  |  Photo credit: Surface Mag
In the boomtown Post-War years, Emeco expanded, outfitting not only the Navy, but also federal prisons, state hospitals and government offices. Its real turning point into a modern furniture classic though, came in 1998 when Emeco's current CEO Gregg Buchbinder purchased the company and rebranded it, working with big names like Phillippe Starck and Frank Gehry to appeal to architects, designers and commercial retailers as well.
"When I first took over Emeco, we only had sales reps who called on the US Government – Navy ships, submarines and prisons," Buchbinder said. "The sales had dwindled down to almost nothing. I was at Emeco and I heard our customer service employee, Paulina, yelling into the phone, 'No, I will not ship your chairs! You send the money first.' I asked her who was on the phone and she said, 'Somebody – Giorgio Armani.'"
Today, Emeco has evolved from a submarine chair to an unimpeachable symbol of no-nonsense ingenuity. Its design is timeless. Its form ubiquitous. It has also become one of the most knocked off chairs in the industry. But while many are able to copy the Navy Chair, none can actually duplicate it. At Emeco, the chair is literally made by hand. The triple polishing alone clocks in eight hours. The quality and durability are unbeatable. There's even a video of the Navy Chair being thrown out of an office window to prove how resilient it is. It is this dedication to traditional craftsmanship and expertise in manufacturing that has allowed the Navy Chair to truly stand the test of time. As Buchbinder has said before, "We're not trendy. 'Timeless and Classic' is always a good purchase."
One of the world's most ubiquitous chairs, Emeco's Navy Chair can be found in restaurants, cafés and homes around the world.
Emeco's Navy Chair receives a makeover with the release of Navy Wood Chair, available in walnut, white oak and black-stained oak.
As seen in The Dark Knight  |  Photo credit: Film And Furniture
As seen in iRobot  |  Photo credit: Film And Furniture