Breathe In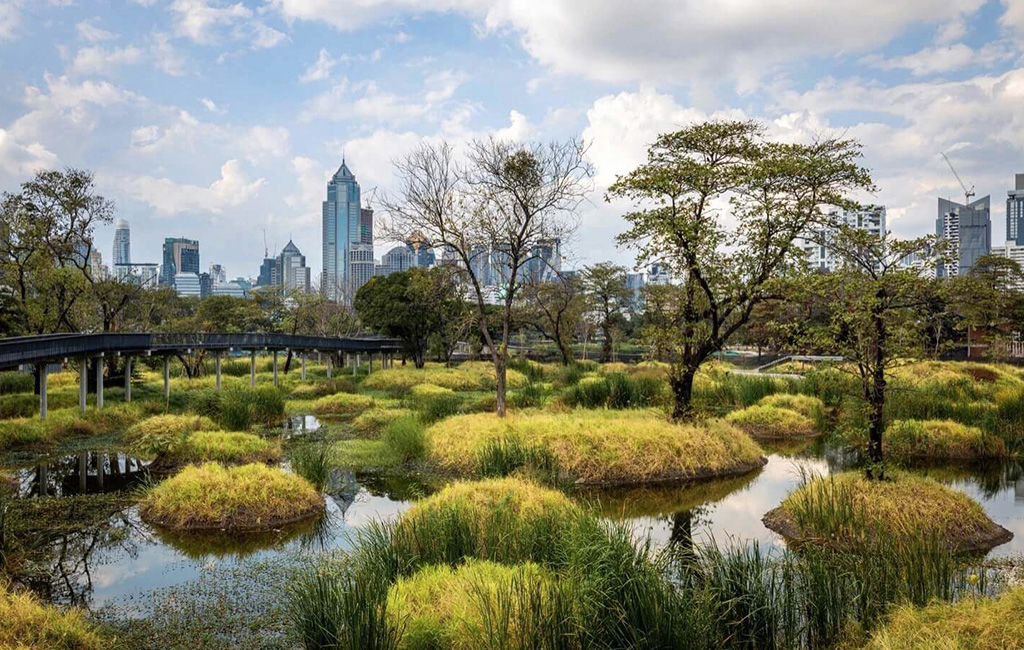 Text by Teerin Julsawad
The third phase of Benjakitti Park's expansion brings Bangkok closer to a greener future.
Sometimes referred to as one of the "lungs of the city," Benjakitti Park was built on a large plot of land, formerly occupied by the Tobacco Authority of Thailand, in central Bangkok. Since the park's inception, it has served as a space for cycling, track, boating, theatrical performances and more. Several minor expansions and installations have also been made to the space.
But in 2016, a major expansion plan of the park was revived and approved, making the expanded park one of the biggest parks in the capital (at 72 hectares).
Once the expansion is fully complete — in 2022 — the park will now see itself surrounded by over 10,000 trees, seasonal flowers, ponds and wetlands. This will further enhance the green zones which will serve to absorb pollutants throughout the city, such as PM 2.5 dust.
Other key features include elevated walkways; museums; a sports center; rare plant gardens; cycling and jogging paths; facilities for various recreational activities; and an outdoor amphitheater. As part of the park's expansion, numerous forest areas and wetlands are being added where the public can learn about nature and the diverse range of plants and animals that inhabit these ecosystems. Children can, for example, participate in a rice paddy field demonstration.
In addition to these benefits for the public, the park also supports the city and its animal inhabitants in a number of ways through its ecosystem. An intricate network of water channels has been created in order to support a biological community. This connection in turn supports the growth of trees, shrubs and habitats for many animals. Migratory birds can also use the park as a refuge. Plantations of saplings will eventually make the area greener and more hospitable to wildlife, so the animal populations will naturally increase in years to come.
During the rainy season, the park's unpaved grounds can absorb over 128,000 cubic meters of stormwater. And with the ability to treat 1,600 cubic meters of sewage per day, the park partly utilizes the treated wastewater from local communities to fill its ponds and water its plants.
Sections of the expanded park are already open to the public, but the official inauguration will be held later this year on August 12th. Experience a pleasant stroll through Benjakitti Park as part of the city's transition to a more sustainable future.