The Start-Up Sofa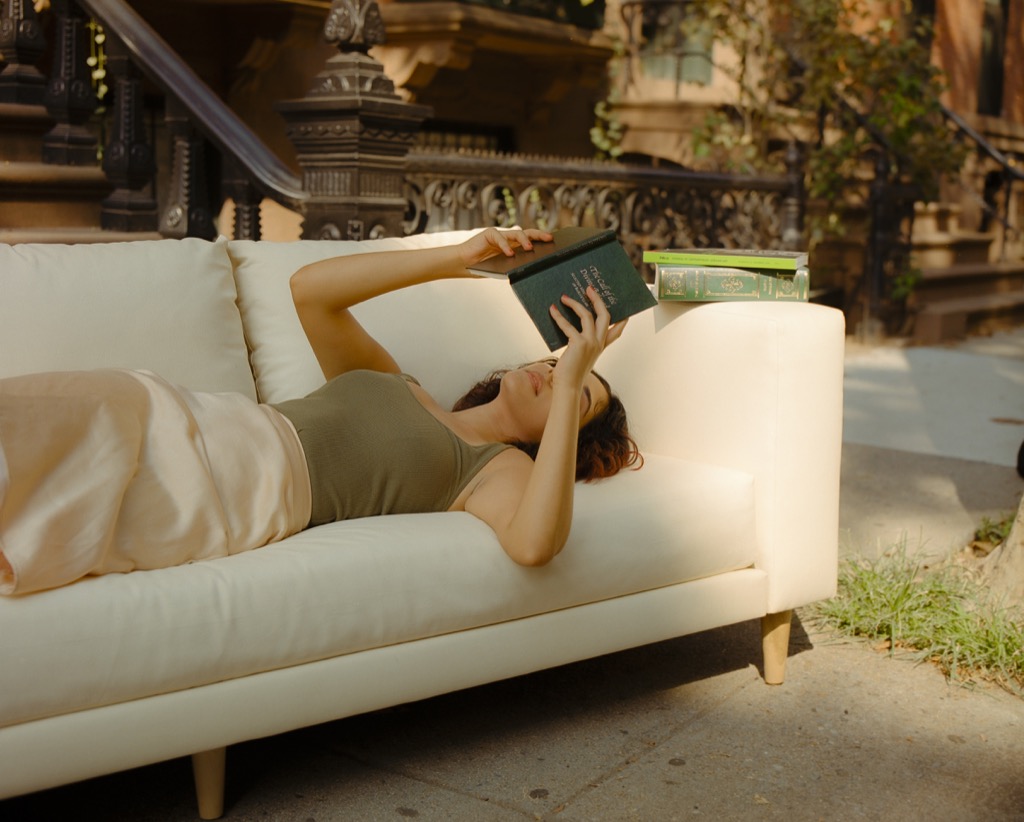 Founded by Caitlin de Lisser-Ellen and Phantila Phataraprasit, Sabai Design was born almost out of necessity. After the two graduated from Columbia University and started their next chapter as young professionals in the city, they ran into a problem when it came time to furnish their apartments. As they began to look for furniture that aligned with their values and needs, they discovered it was incredibly difficult to find pieces that were both sustainable and accessible to millennials on a budget. Those that were "green" tended to come from high-end brands with hefty price tags. Meanwhile, those that looked good and were within reach were from companies that valued aesthetics over sustainable practices. "Ultimately, we created Sabai with the hopes that we could answer the calls of those who wanted pieces that were equal parts sustainable, beautiful and within reach," the founders told us.
We sit down to talk to Caitlin and Phantila about their journey as young entrepreneurs in the furniture industry, as well as how Sabai Design is making a difference.
CHANINTR: Thank you so much for taking the time to talk to us. Can you start off by telling us about your goals for Sabai Design?
SABAI DESIGN: Our goal is to offer sustainable furniture that requires little to no sacrifice, allowing more people to live sustainably. We started with sofas because we noticed a particularly large dearth of sustainable options and wanted to create a product that would embody our brand's essence. One that was cozy, conscious, and convenient. We manufacture and sell our pieces in the United States using as sustainable materials as possible while remaining relatively affordable.
CHANINTR: Describe Sabai Design in three words.
SABAI DESIGN: Cozy, conscious and convenient!
CHANINTR: What were some of the challenges you faced as new faces in the furniture industry?
SABAI DESIGN: The sustainability movement is undeniably growing, but is still far from mainstream. On the customer front, our challenge is to show people that furniture is an avenue through which you can easily reduce your impact on the environment. With regards to our product, it took us some time to find a manufacturer that would take a chance on a new company looking to create something different, but we are so happy to have found a family-owned factory that believes in our mission. Additionally, because sustainable materials are not the default for most manufacturers, we had to search for innovative, eco-friendly materials ourselves. We continue to look out for new materials we can incorporate into our products, with our current (and customer) favorite is our velvet fabric made from recycled water bottles.
CHANINTR: What was the designing process like for Sabai Design?
SABAI DESIGN: Our customers have been an invaluable resource since the beginning of our design process. Through our social media accounts, we conducted polls on preferences such as aesthetics and comfort levels. Since launching, we have continued to listen to engage customers and listen to their concerns and suggestions as to how we can make our product even more sustainable.
CHANINTR: How are Sabai Design products made?
SABAI DESIGN: Our products are made-to-order in High Point, North Carolina with as sustainable materials as possible while ensuring they remain accessible. Our frames are made with FSC-certified wood, our seat cushions with CertiPUR-US certified foam, and our back pillows with recycled fiber. We offer two types of fabric – velvet made from recycled water bottles and an upcycled woven fabric made from a waste byproduct of refining petroleum.
CHANINTR: What can people expect next from Sabai Design?
SABAI DESIGN: We are constantly looking for ways to improve and make both our customers and the earth better off. At the moment, we are exploring innovative materials that we can incorporate into both existing and new Sabai products. We are also excited by the prospect of partnering with boutique hotels or schools that are interested in creating spaces that promote awareness around sustainable furnishings.
CHANINTR: Lastly, as a successful small start-up, what advice can you give to those looking to start their own business?
SABAI DESIGN: Some advice we received early on is to constantly communicate with and listen to your customers. We cannot emphasize enough how valuable this has been for us. Before you go ahead and build a product or service you believe people want, you should talk to your potential customers to get a better understanding of what they actually care about and want, or, more importantly, need.