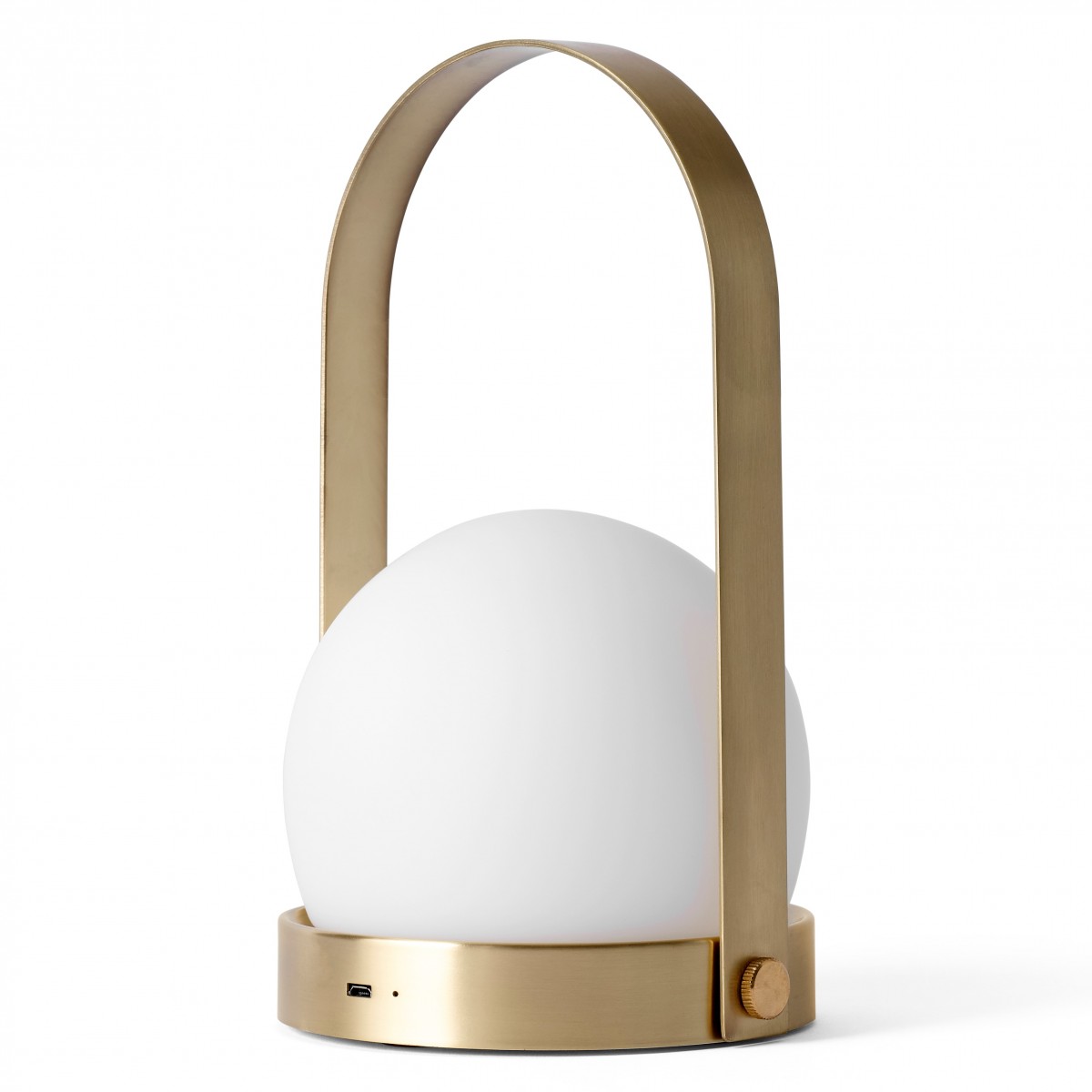 Designed as a portable, lightweight lamp, the Carrie LED Lamp is unique for its multiple uses and mutability. With a sleek, functional handle and a warm orb of light nestled gently in a basket-like base, the lamp is useful almost anywhere; even on the go, as it is cordless and comes with a USB charger. Move it from your office to your bedside table, to your evening picnic in the park and in your bicycle basket as you ride home. The cosy light created by this special piece of lighting brings comfort and sophistication wherever you are. The portable LED lamp comes in black, white, burned red, olive green and brushed brass. It offers a low, warm light in three settings perfect for creating a cosy ambience. Fully charged, it will stay on for ten hours.

Important usage information: To keep the internal battery healthy, only leave the Carrie plugged in during charging, with the lamp off. Do not leave plugged in while in use.

Materials:
Opal glass shade
Brass or Powder-coated base & handle or Bronzed aluminum with leather
USB Cable & Adapter
Internal LED light source rated for 25,000 hrs
Light Source: 384 Lumens, 2700K, CRI80+(Not exchangeable)
Dimmable, 4-step (0%, 10%, 50%, 100%)
3.7V 5000mAh internal rechargeable lithium battery (10-hour capacity)
Detachable handle
Charging cable included (USB to Micro-USB)
Power outlet adapter included (USB to two-blade US plug)
In-stock product(s) can be delivered within 1 week. Norm Architects
Norm Architects, situated in Copenhagen, Denmark, was founded in 2008 by Jonas Bjerre-Poulsen and Kasper Rønn. Norm works within residential architecture, commercial interiors, industrial design, photography, graphics and art direction. Norm Architects' work is found in balance—between richness and restraint, between order and complexity. Each project is imbued with the same intrinsic quality: a simplicity that carries bigger ideas. Guided by the body and mind rather than by trends or technology, Its projects explore ideas that not only look good but that also feel good.