Comparable to a landscape design project, where carefully plotted combinations of elements create a new domestic scenery, the Daniels seating system redesigns the living areas with brand new compositions, in which regular curves and ellipses interrupt the linearity of the layouts, imbuing them with a more dynamic momentum.

Innovative and truly original, it is at its most striking when paired with the Amber low units, creating solutions with a strong visual impact that pass seamlessly from the soft feel of the seats to the harder feel of the containers and from more geometric shapes to an extraordinary combination of curves.

The chairs are designed based on the concepts of full modularity and maximum comfort, and feature a single cushion. The vast design system also includes decisively large chaise-longue couches with curved seating areas.

The frame of the back, and the combination of two different depths produces an effect in which the backrests appear to overlap, creating movement at the back which dispels the perception of the sofa as a continuous screen when set in the centre of the room, as well as making it possible to add the Clive console, which further accentuates its motion.

Instead, the "offset" version, where the backrest juts out from the side of the seat, easily accommodates the Amber ottoman or low unit, creating a different compositional solution.

The system offers an alternative to the fixed armrest, in the form of a removable ottoman, in leather or fabric, on wheels.

Its natural position is alongside the sofa, attached using magnets, but it can be moved and used as an additional chair or surface, or, if positioned opposite the seat, as a natural extension of the same. The ottomans can also be attached to the end of the Amber low units.

Daniels is available in two versions: all-fabric or all-leather, and in a third combined option with base and armrest in leather and cushion in fabric, flaunting a harmonious mix of the textures and colours of the exclusive Minotti textile collection.

With its design-based, modular, versatile and innovative qualities, Daniels introduces original and unexpected structural details and compositional elements with a dynamic, contemporary rhythm.

Daniels Composition M Includes :
1 Offset Round Element with Single Extension cm 252 (DX) - With 3 Back Cushion cm 68x46
1 Central Element cm 162 - With 2 Back Cushions cm 68x46
1 Double Offset Chaise-Longue Square cm 181 - With 1 Back Cushion cm 113x46
1 Daniels Ottoman With Magnets cm 44x105 (SX)

Suggested Coffee Tables and Optional Accessories (Price not Included)
Amber Open Storage Coffee Table cm 43x86xh36
Daniels Composition M
No product available in any showroom.
For inquiries, please contact us at +662 714 9040 or LINE: @chanintr.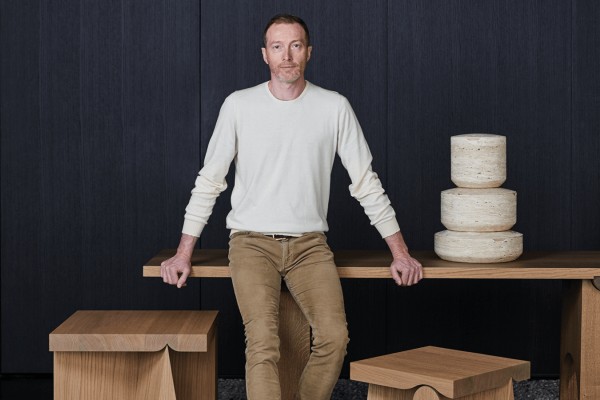 Christophe Delcourt
Christophe Delcourt was born in Saint-Maur-des-Fossés, France in 1966. He is the designer known for handcrafted furniture and lighting that demonstrate a respect for the environment and a passion for French craft tradition. He graduated from the drama school and attended the theater where he later realized design was his true calling. Delcourt launched his studio in the heart of Marais—Paris's 7th arrondissement in 1996. His work combines raw materials and elegant lines, and he relies heavily on nature and natural materials to shape a design with depth, emotion, and warmth—to inform his work.