The outdoor seating system designed by Italian-Danish duo GamFratesi is a compositional mosaic. The juxtaposition of the individual elements creates a style that is decisive and strongly characteristic, yet delicate and light thanks to its suspended, aerial feet.

In the new teak version, an evolution of the family originally in aluminium, the warmth of wood combines with careful technological research in the wooden supporting structure. All the more so as there is no support point in the central seating area of the sofa: a slender but solid platform made of a wood that is smooth to the touch and resistant to atmospheric agents, supported by elegant Bronze-coloured aluminium feet, this is Patio Teak.

The wooden frame, chosen to create a more natural aesthetic that is easier to combine with other furnishing pieces in the outdoor collection, thus joins the version with aluminium base, borrowing the structure of its backrest in Ecru polypropylene rope. Some of the seating elements of Patio and Patio Teak feature a handy tray in natural teak, with grooves for draining water.

The introduction of the Patio version in wood enriches and multiplies the transversal nature of the system, which can thus be adapted to multiple environments and contexts, meeting all aesthetic and formal requirements.

The design makes it possible to create conversation, relaxation and vis-à-vis areas for every taste, interspersing seating with coffee tables and adding ottomans and benches. A solution capable of meeting the requirements of both small metropolitan terraces, and extensive outdoor spaces. All the elements feature feet and backrest joints in die-cast aluminium with an anti-touch Bronze colour finish, perfect for adapting to both the wooden and aluminium bases.

The backrest remains the common thread of the collection: a vertical boundary that wraps around the piece without acting as a barrier, closing the design but offering a glimpse of beyond, and drawing the horizon thanks to its iconic weave.

Cm166 - With 2 Back Cushions 60x50 cm and 2 Cushions 45x40 cm.
Cm196 - With 2 Back Cushions 70x50 cm, 2 Back Cushions 60x40 cm. and 2 Cushions 45x40 cm.
Cm241 - With 3 Back Cushions 60x50 cm and 2 Cushions 45x40 cm.
Cm286 - With 3 Back Cushions 70x50 cm, 3 Back Cushions 60x40 cm. and 2 Cushions 45x40 cm.
Patio Teak Outdoor Sofa
PTD196E, PTD286E
Show More
No product available in any showroom.
For inquiries, please contact us at +662 714 9040 or LINE: @chanintr.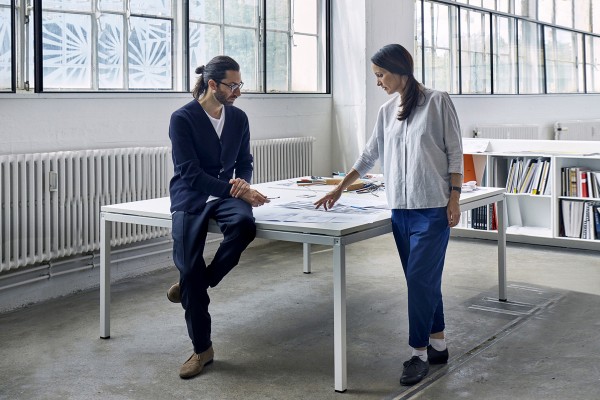 GamFratesi
GamFratesi Studio was founded in 2006 by Danish architect Stine Gam and Italian architect Enrico Fratesi. The studio is based in Copenhagen. Stine and Enrico draw on the classic Danish furniture and craft tradition as well as the classic Italian intellectual and conceptual approach. Understanding a tradition and addressing it actively in the workshop makes it possible to expand on it. From this cross-cultural substrate they create furniture that respectfully reflects tradition while also featuring unique embedded stories, symbols and associations, often expressed in a minimalist idiom.