The Upholstered Sofa is a re-edition of the two and a half seater model created for building lobbies in Chandigarh in the 1950s. Our re-edition is true to the dimensions and external form of the original design, with improvements made to the structural elements and quality of materials to create a chair that is built to last. The external leg and arm frames are made of teak wood, while the inner frame is made of pinewood. High quality premium polyurethane foam in a carefully calibrated combination of densities is used to create the perfect ergonomic seating comfort. We offer the Easy Armchair in select velvets and woolen fabric with rub counts close to 100,000.

Arm Height: 63.5 cm
Seat Height: 42 cm

Materials:
Burma Teak (Tectona grandis)
Polyurethane Foam
Upholstery Fabric
Pinewood Inner Frame
Metal Components
Upholstered Sofa (2.5 Seater)
No product available in any showroom.
For inquiries, please contact us at or LINE: @.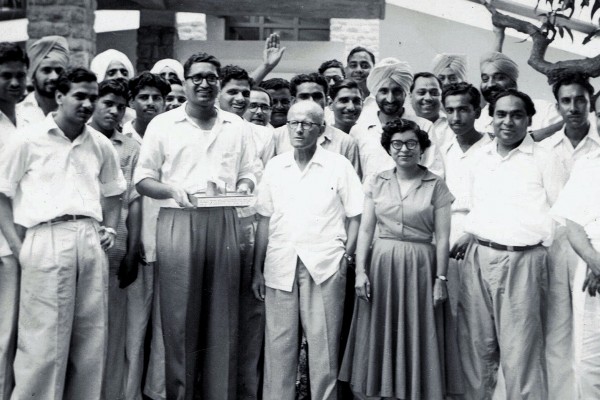 Chandigarh Collective
Chandigarh Collective refers to the architects, designers, model makers and craftspeople who contributed to the design and prototyping of furniture for the city of Chandigarh in the 1950s. A Design Office was set up under the leadership of Pierre Jeanneret with a team of young Indian designers and architects assisting him to creating a range of furniture. The designs and variants of these designs have been produced from the 1950s to the present day anywhere in the world.