Belgian Balls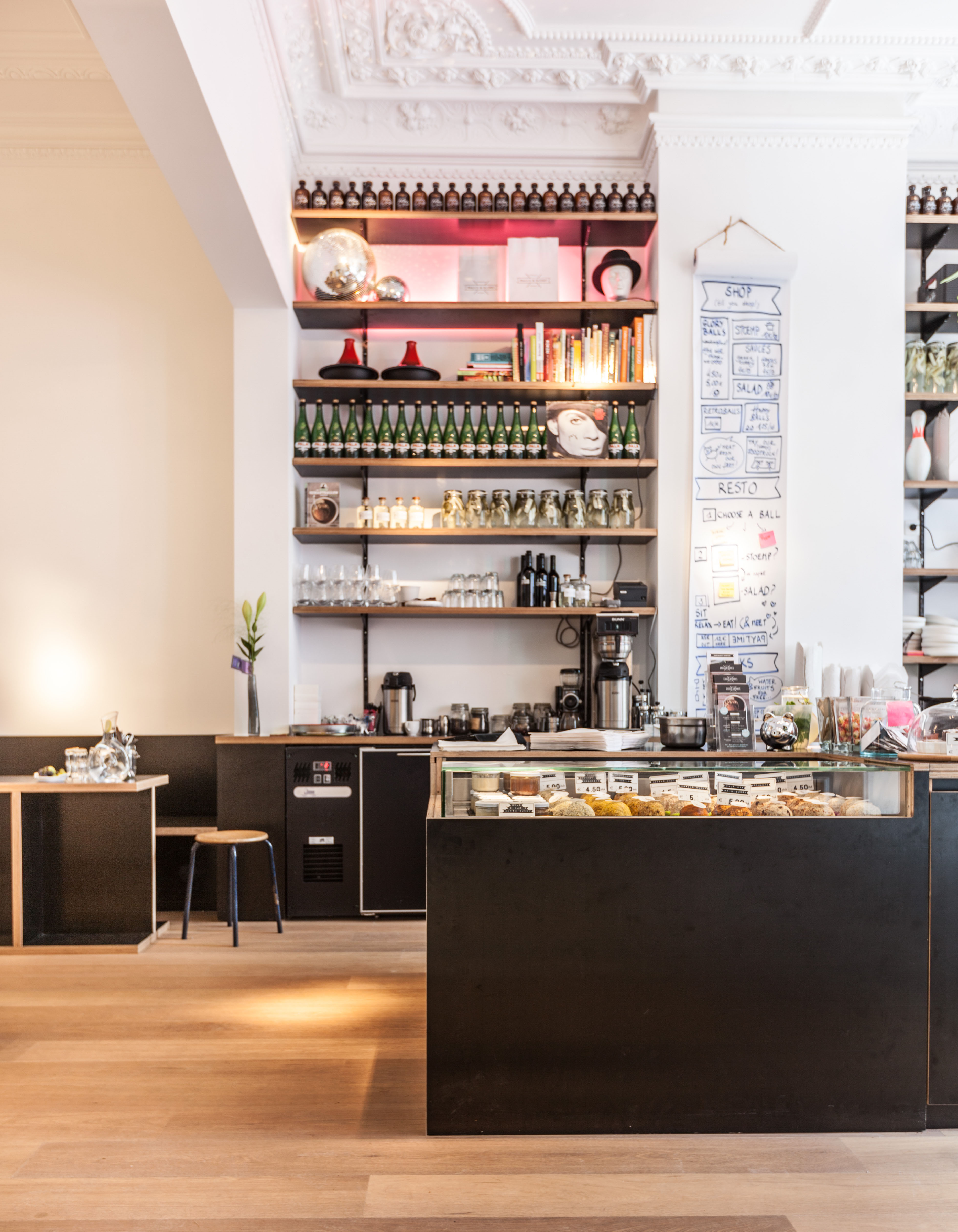 As we were passing through the lovely town of Ghent and looking for a lunch spot, this modern light filled space with a line of young adults caught our eye. And the name, Balls & Glory, got us in the door and getting in line ourselves.
Balls & Glory is a homemade filled-meatball restaurant founded by Wim Ballieu in his quest for a simple, original and tasty recipe to satisfy hungry stomachs and to cherish Belgian slow food. The oven-baked balls which are pork, beef, chicken or veggies are seasoned with the best spices with no artificial additives inside. They are rolled by hand and filled with a liquid filling from very classic ones like tomato or 'liegeoise' to a very unique ones like black olives & anchovies. Each ball takes 27 minutes to bake in the hot air oven (read: slow baked), but they serve them at every turn within 8 minutes to guarantee the freshness.
They would place the ball on top of the classic 'stoemp' or mashed potatoes or with a bed of fresh salad. Water and fruits on their communal tables are always free and meant to be shared with other guests. You can find a good selection of Belgian beers, lemonades and juices on the menu. Sodas are banned in the restaurants.
The first Balls & Glory opened its doors in 2012 as a pop-up lunch restaurant. Ballieu's parents owned an old-fashioned butcher shop in Ghent and he learned the recipes from his mother since he was young. His passion for cooking began during the holidays spent on his grandparents' farm in Veurne. Later on, Ballieu opened more locations in Antwerp, Brussels and Leuven. All the balls served in their restaurants are still handcrafted, made with the best seasonal ingredients and served in a simple yet delicious way. In 2013, Balls & Glory was awarded 'Best Food Concept in Europe'. Their ultimate goal is to open 50 restaurants by 2025, including at least one in New York City.
The next time you are passing through Belgium, look out for those balls!