Coastal Curiosities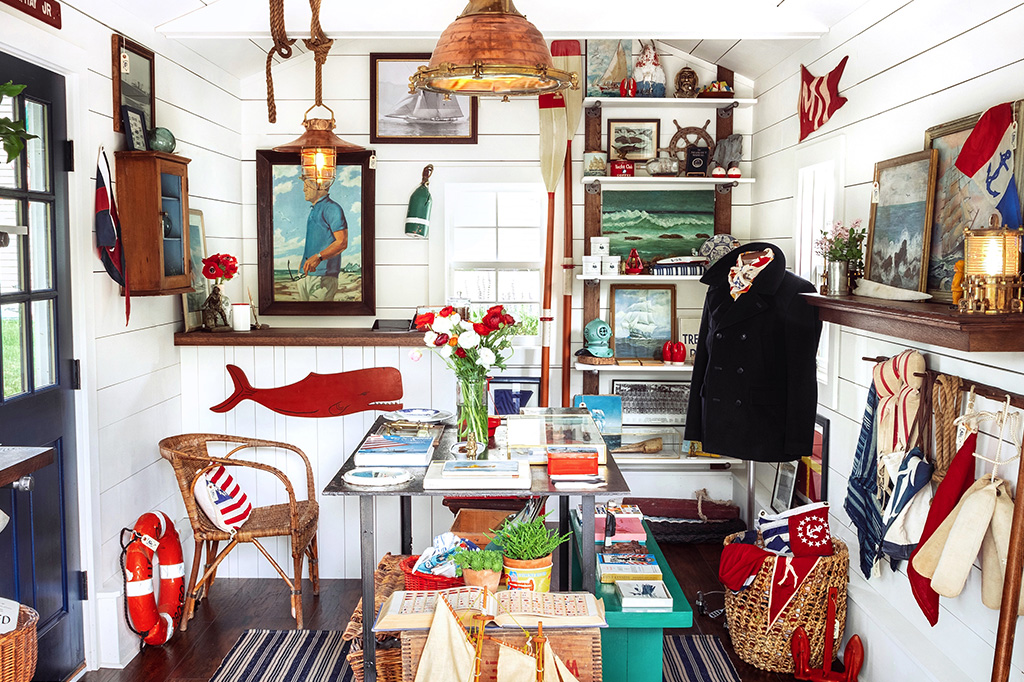 Text by Uracha Chaiyapinunt
Like many modern love stories, Jackie Greaney and Paul Havel's relationship began online. The creatives connected through Instagram after having followed and admired each other's work for a while. When their paths finally crossed outside the app and they found themselves living in Manhattan at the same time — Greaney is originally from Southern California while Havel is from Ohio — it felt natural to meet up for coffee. That was back in 2015. Today, the two are engaged and expecting. They have since left the city, settled into their new life in the historic town of Kennebunk, founded a creative studio and opened Seacraft, a shop dedicated to their expertly curated vintage finds.
"With Seacraft, we wanted to create a shop that would feel quintessentially Maine and add to the experience of visiting the Kennebunks," Greaney said. She and Havel have filled their little sun-faded red shack with nautical-inspired objects found on their travels up the Eastern Seaboard. With the shop's ever-changing display, Greaney guarantees there is always something new to be discovered here — from maritime goods and vintage clothing to one-of-a-kind treasures including framed oils, prints and postcards from the past (all hand-picked by the pair, of course).
When not working at the studio or manning the shop, Greaney and Havel are also known for capturing and sharing the best of Maine with their combined 150,000 Instagram followers. Between opening one of the most popular shopping spots in the Kennebunks and their unofficial roles as brand ambassadors of the Pine Tree State, who better to ask for Maine recommendations?
Kennebunk is…
Bright-colored wooden houses. Vintage cars. Lobster boats. The coast. Pink sunsets. American flags. Local, family-owned businesses. Friendly people.
The best time for a Maine trip…
There's nothing like a Maine summer. Long days, low humidity, beautiful pink sunsets. We especially love September, when it still feels like summer, but a lot of the tourists and renters have gone home and the town is a bit quieter.
24 hours in Kennebunk means breakfast, lunch and dinner at…
Breakfast at Boulangerie bakery in Kennebunk, which operates in a large red barn just off of Route 1. Everything is scratch-made with Maine butter and the croissants and baguettes are as good as you'll get in Paris. Lunch at The Clam Shack, which is routinely voted the best lobster roll in New England. They take all of the meat from a 1-pound lobster and put it on the roll, which is, uniquely, a round roll rather than the traditional hot dog bun. We also love the fried scallops, fried clams and fresh-squeezed lemonade. Dinner at Nunan's Lobster Hut for the freshest, most delicious "lobster in the rough" you'll ever have. Lobster is caught same-day, and the hut is filled with mementos, photos, and artifacts from the Nunan family, which has been lobstering in Kennebunkport for generations.
Stop and shop for souvenirs at…
Seacraft, of course! Later this summer Seacraft will be expanding into a second cottage, a larger blue one next door, and selling our own manufactured goods alongside our vintage, so you can stop in for vintage-inspired "Maine" and "Kennebunk" T-shirts, sweatshirts and hats.
Long afternoon and zero plans…
We love taking a drive along Ocean Avenue and out to Cape Porpoise, which is a hamlet of Kennebunkport. There you'll see traditional Maine "fish houses," which are built on stilts over the water. At the end of Pier Road is our working lobster pier, as well as a view of our lighthouse. You can sit on the water and grab a drink and some fried clams at The Ramp.
Spend the night at…
It's hard to beat the White Barn Inn, a historic property which is newly owned and operated by the luxurious Auberge collection. It was recently refreshed with a bit of nautical style that aligns with our Seacraft sensibilities, has delicious restaurants and is just a short bike ride from Kennebunk Beach.
Make a home homier by…
Filling it with pieces that are meaningful, and evoke memories of a special place, trip or moment.
"Living Well" means…
Being in close proximity to the things we love, such as the ocean, beautiful architecture and history, and making time to get out and appreciate them every day.
@SEACRAFTVINTAGE