Favorite of the Master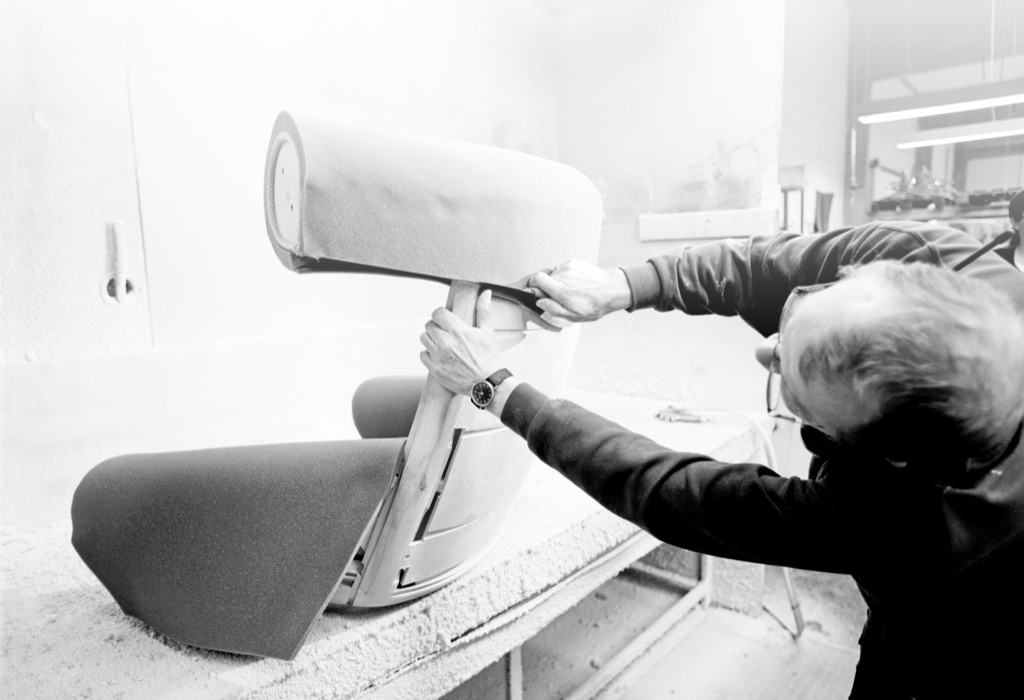 Texted by Pamara Chavanothai
"We must take care that everything doesn't get so dreadfully serious. We must play — but we must play seriously," was what Hans J. Wegner (1914 – 2007) remarked when he designed the Ox Chair in 1960.
It was the year when Wegner threw himself into experimenting with upholstered furniture. Among the many produced designs, the Ox Chair is considered his most daring work — a display of Wegner's innovative approach to design, where he abandoned the pared-down Danish propriety he learned in school.
By all accounts, Wegner was fascinated by the surrealist paintings of Pablo Picasso and so he took a cue on the artistic pursuit to challenge and redefine traditional seating.
The easy chair, molded in cold cured foam, is fully upholstered in taut leather or fabric. It demands physical strength and utmost precision to upholster (it takes a skilled craftsperson a whole day to make it by hand). Wegner was trying to make the heavy body look as if it were floating, thus a decision on a slender, rod chrome-steel frame. Bearing generous proportions with soft, organic form that visually evokes Henry Moore's late sculptures, the voluminous chair invites one to relax in its half-sitting, half-reclining embrace.
For all its largely characterized beauty and humorous whim, Wegner was, as usual, deliberate on full functionalism. He gave it a thoughtful analysis of the various ways the chair could hold different body positions. It was important to him that the user was able to sit freely and openly, so the body did not become stiff. With the conspicuous perched bolster, earning the name "Sausage Chair" in Denmark and "Ox Chair" elsewhere in the world, users are able to lean against the headrest comfortably while reading a favorite book or curl up in the chair's embrace and swing one's leg over the armrest — a carefully considered decision.
Initially manufactured by AP Stolen and stuffed with curly hair and tow, the chair remained on the market for only two years. Wegner had to shelve this novel standout, as it was too complicated to produce at the time. Nearly three decades later in 1989, he approached the exceptional upholsterer Erik Jørgensen in a quest to perfect the chair's construction. With Jørgensen's expertise and more modern technology, the chair's relaunch at Milan's Salone del Mobile saw unprecedented success and has gained global popularity ever since.
Majestic and exquisitely comfortable, the Ox Chair truly manifests as an iconic design with an irrefutable presence. Out of the prolific designer's 500 chairs and 1,000 other furniture creations, Wegner was particularly fond of the Ox Chair, as suggested by the many photographs taken. It is respected as a masterpiece that leaves an indelible mark on the Danish Modern legacy revered throughout the world and was the Chair Master's favorite easy chair at home.
The Ox Chair and Queen Chair are now produced by Fredericia Furniture, with whom Erik Jørgensen has grown to become one.