First Class Designs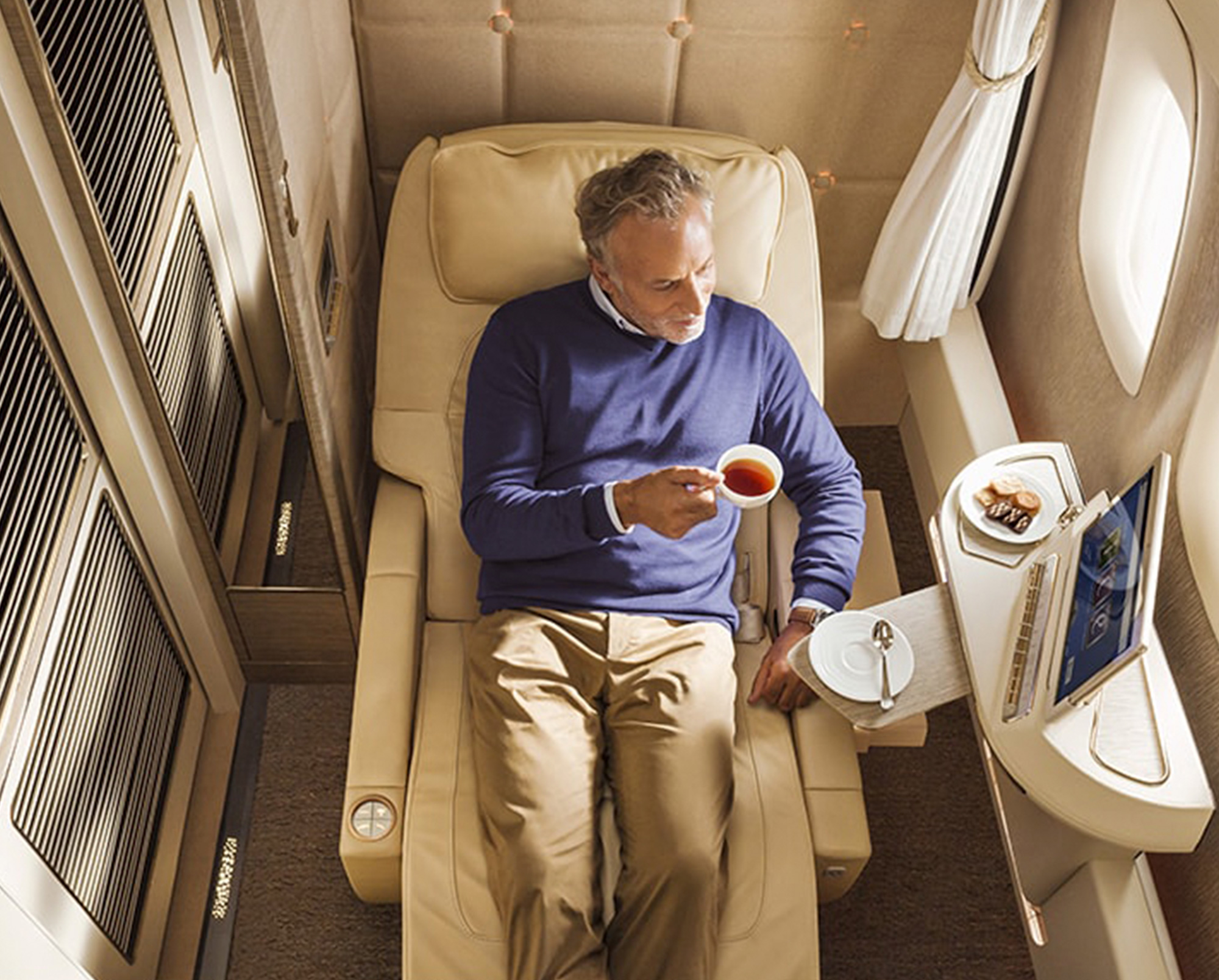 Text by Tharin Laorauvirodge
"It's the journey, not the destination" is a mantra that many esteemed travelers hold dear to their hearts. With today's sophisticated flight networks filling our skies, there are numerous ways one can connect any two points in the world — and that's why the journey matters. In the realm of commercial aviation, choosing a different airline, or airplane, can alter your travel experience tremendously. And the difference is magnified to a great degree when you fly in the front cabin as airlines tend to approach and define "luxury" differently, resulting in a variety of "first class" products. Case in point – let us explore here some of the world's most renowned first class seats in our skies today:
EMIRATES' FIRST CLASS ON NEW 777-300ER
Emirates introduced its latest First Class product on the new Boeing 777-300ER birds in 2017, and it has since become one of the most sought-after products for aviation enthusiasts. The new First Class cabin consists of only 6 suites, each fully enclosed with floor-to-ceiling walls and doors, spreading over two rows in a 1-1-1 configuration. Inspired by Mercedez Benz S Class, the suites deliver personalized luxury through technology and experience-focused design decisions. The oversized plush cream leather seat exudes a sense of status, and with a touch of a button, it can recline into "zero gravity" position, making its occupants feel as though they're floating in the clouds. In Emirates' new First Class, all suites are designed to have windows – even the ones in the middle of the cabin. The two middle suites are equipped with virtual windows, which are high-definition screens that take a direct real-time feed from outside the plane. Unfortunately, it is quite difficult to experience this product as Emirates has only 9 of its 777 planes fitted with the new First Class suites today.
ROUTES: SELECT 777-300ER DESTINATIONS FROM DXB INCLUDING GVA, BRU, STN, HND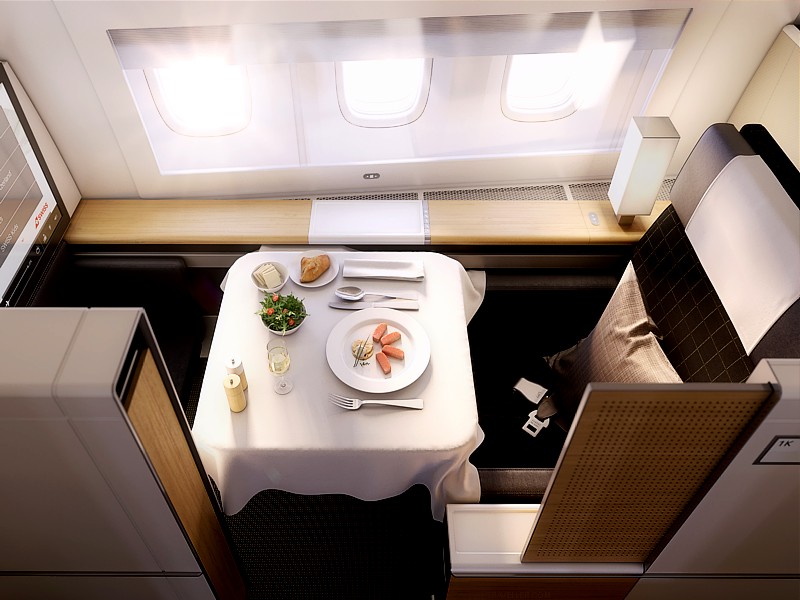 SWISS' FIRST CLASS ON 777-300ER
There's nothing fancy about Swiss' First Class cabin on the airliner's mainstream 777-300ER fleet. But surprisingly, it's this very understated, unpretentious presentation that exudes a sense of quality and luxury. The cabin consists of eight suites spreading over two rows in a typical 1-2-1 configuration. Much of the visible hard surfaces in each suite are dressed in warm wood tones which give a dramatic contrast to the dark charcoal-colored seat covering. Each suite is also equipped with a sizeable sliding closet which can also be used as a door to close off the suite. The same visual vocabulary continues on to the excellent First Class lounge in Zurich with clean lines and warm wood tones that engulf guests in a sense of calm even during a hectic transit. Most notably, the First Class lounge in Zurich also has several sleeping rooms, each fully equipped with its own spacious shower and an expansive view of the tarmac.
ROUTES: ALL 777-300ER DESTINATIONS FROM ZRH INCLUDING BKK, SIN, HKG, SFO, ETC.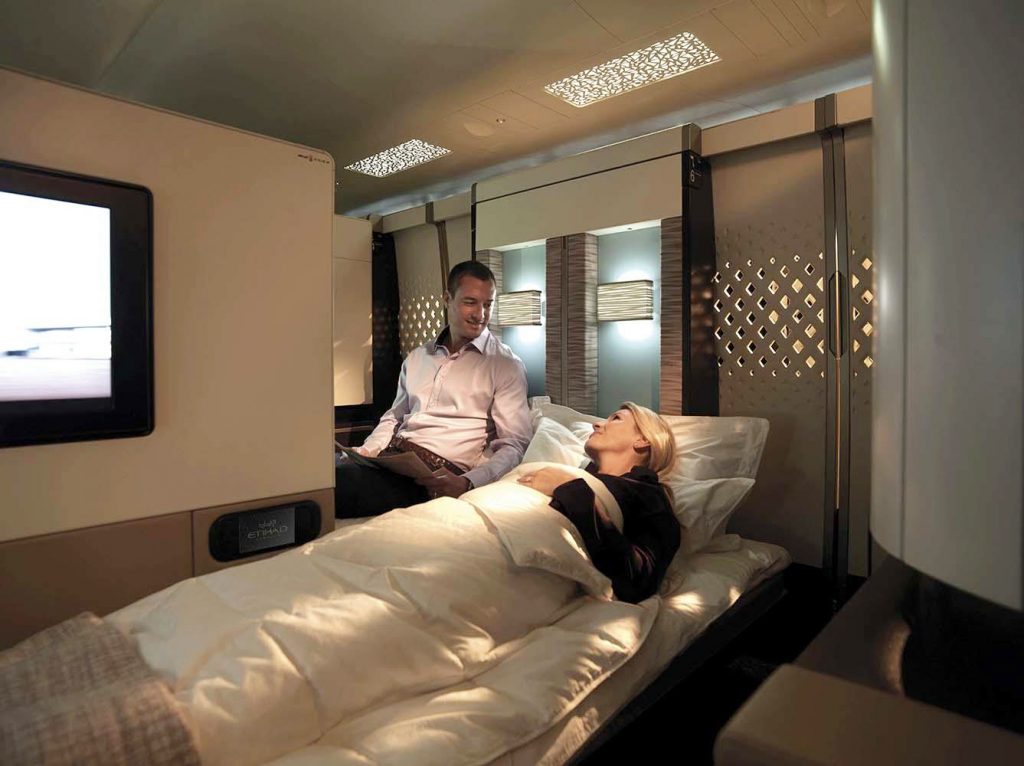 ETIHAD'S FIRST APARTMENT ON A380
Everyone is left in awe the first time they step inside Etihad's first class cabin on the airliner's A380. As you enter the single-aisle cabin, the beautifully symmetrical curvature of the plane and the whimsical lighting on the ceiling transport you to a serene state of mind where any stress you might have had simply ceases to exist. The narrow single aisle is an entry way to nine luxurious suites dubbed as First Apartments, a name that highlights the generous amount of space and functionality. Each Apartment comes with a large armchair-type leather seat tucked comfortably beside a full vanity closet on one side. On the opposite side is a long leather bench that extends the full length of the Apartment. While you're in the shower, your flight attendant can convert this bench into a flat bed for a good night's sleep. Here food is made to order by your personal butler. And if you should grow tired of your own space, you may retire to the beautiful lounge right behind the first class cabin and enjoy the company of other first class passengers.
ROUTES: ALL A380 DESTINATIONS FROM AUH INCLUDING LHR, SYD, JFK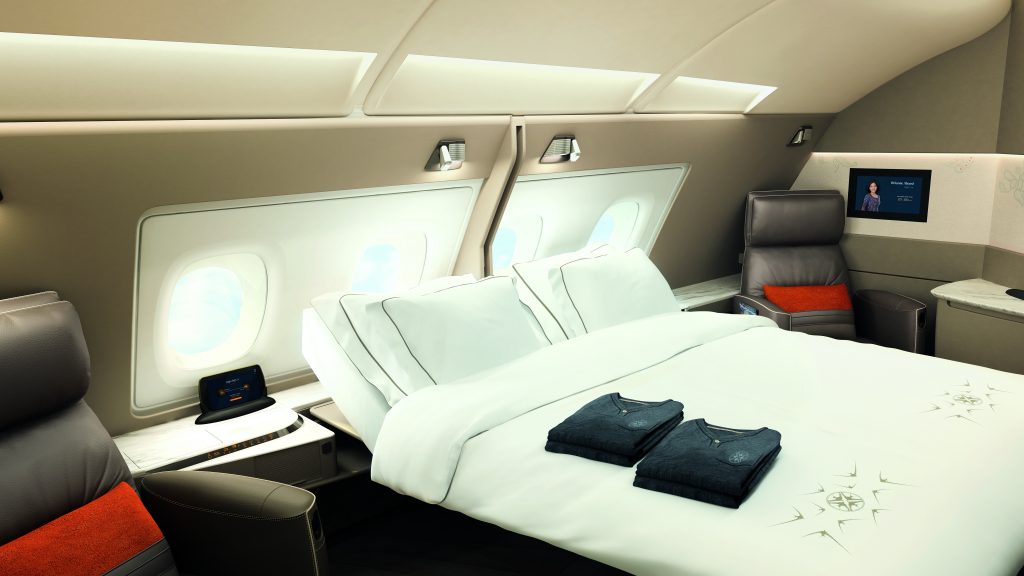 SINGAPORE AIRLINES' SUITE CLASS (2ND GEN) ON A380
For Singapore Airlines, luxury is spaciousness and privacy. Singapore's second generation A380 First Suites cabin is located at the front of the superjumbo's upper deck. As you enter any of the six individual suites from the cabin's single aisle, you're hit with such an unprecedented amount of space you may whisper to yourself "This is ridiculous!" At first sight, the suite welcomes you with nothing but a beautiful leather armchair that pivots electronically and a minimalistic side table. The full-length flat bed is neatly tucked away out of sight until it is needed. Two passengers traveling together in adjacent suites can request to have the walls between their suites lowered, transforming the combined space into one large bedroom in the sky.
ROUTES: SELECT A380 FLIGHTS BETWEEN SIN AND SYD, LHR, ZRH, PVG, HKG, BOM