Hinckley: Picnicking With the Beau Monde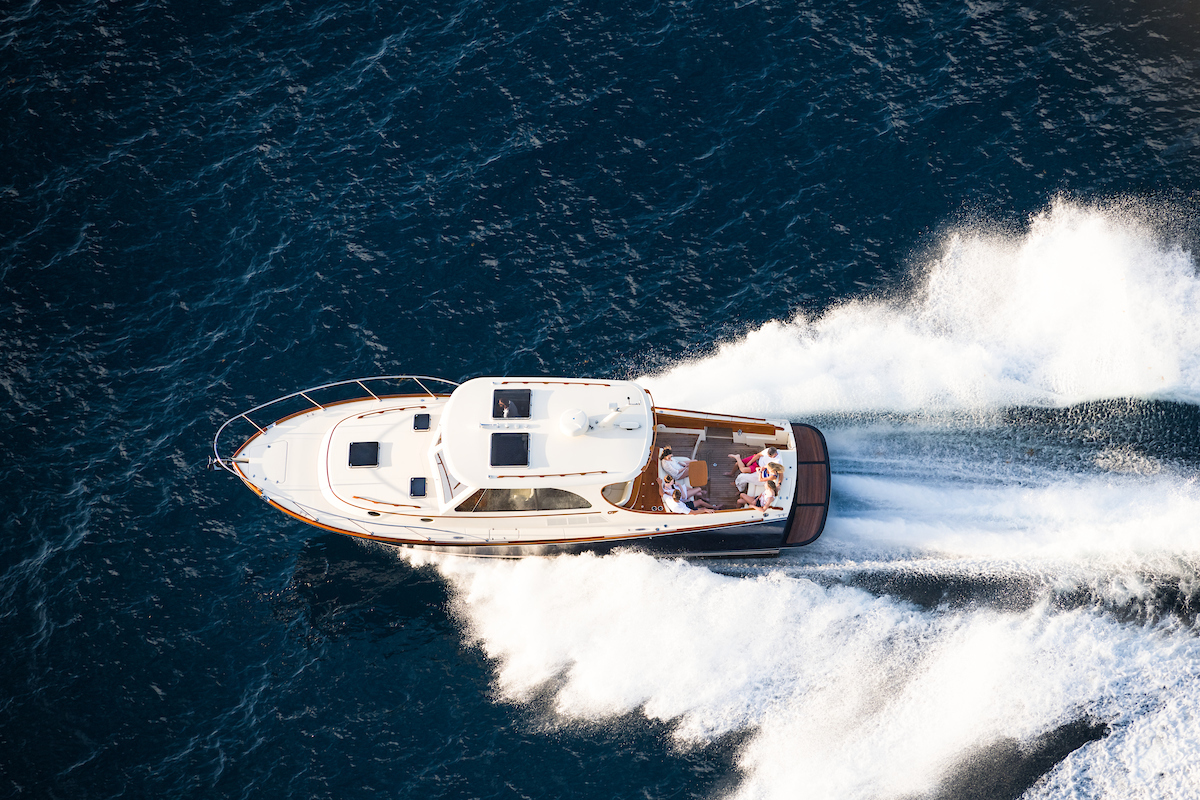 Text by Brent D. Smith
My first recollection of a Picnic Boat was in university with impressionist Pierre-Auguste Renoir's 1881 painting, "Luncheon of the Boating Party," one of Renoir's most famous and, some critics would say, his best painting. Technically the painting is in a restaurant rather than a picnic, but as is typical in impressionist art, the beautiful men and women are enjoying themselves while on a respite from a boating trip. To me, the painting asks more questions than it answers, as I want to know more about these characters who were obviously a part of the beau monde in Paris at the turn of the century and took long leisurely boating trips up the Seine mooring at gorgeous restaurants along the way. What a life. What an enviable set.
So it didn't come as a surprise to me when friends and I were invited to Maine a few years ago for a long summer weekend where the entire social activities were centered around hiking to see the best ocean views, dinner parties and the Picnic Boat. But not just any boat. It was the Hinckley Picnic Boat that captured everyone's attention. From the iconic hostess to the red carpet fashion designer and the crime-TV mogul, all anyone was talking about that weekend was their Picnic Boat, the islands they had visited that day and where they chose to picnic ("Little Cranberry today, maybe Baker tomorrow").
Clearly, the Hinckley Picnic Boat has become an industry icon, admired for its classic "downeast" styling as Maine residents like to refer to their state. Oddly enough, for most people, Maine is considered extremely North, but for true Yankee Mainers, anywhere on the Maine coast is considered "downeast." Think no-nonsense, a bit restrained and a touch salty. Classic old-school American. The Hinckley Picnic Boats are designed for entertaining. The spacious, open-deck designs are ideal for relaxing with family and friends while hopping from island to island, looking for the best place to enjoy their favorite Maine weekend pastime.
Hinckley began in 1928 in Southwest Harbor, Maine. Henry R. Hinckley's focus was on servicing the local lobster boats as well as the yachts of summer residents on Mt. Desert Island, the largest island off the coast of Maine and home to Acadia National Park. In the 1950s, Hinckley was one of the first to forego traditional oak frames in favor of fiberglass — according to the critics, completely unsuited to the construction of a "proper" yacht. But Hinckley saw in fiberglass what the traditionalists had missed — an opportunity to save weight while adding strength without sacrificing the aesthetic beauty for which Hinckleys were known. This same thinking led to the use of carbon and Kevlar from bow to stern in their Picnic Boats of today.
The Hinckley Picnic Boat can safely maneuver in very shallow areas or in water with excessive debris due to the use of jets instead of outboard motors. These jets also become significantly more efficient than propeller-driven boats at speeds above 25-30 knots since there are no appendages below the waterline. The JetStick, Hinckley's patented one-handed pilot joystick, brings military grade GPS hardware and digital processing to a completely redesigned dynamic driving experience. In honor of their 25th anniversary, Hinckley has introduced the Signature Edition across all of their models which include, the Picnic Boat 34 S, Picnic Boat 37 S and Picnic Boat 40 S.
Whether it's dining on the Seine or eating freshly-made egg salad from your chickens in New York on homemade brioche all wrapped in waxed paper while sitting on a rock on the shores of a remote island off the coast of Mt. Desert Island, the beau monde continue to love a picnic and a boat. Just make it a Hinckley.
@HINCKLEYYACHTS