Historic Danish Manor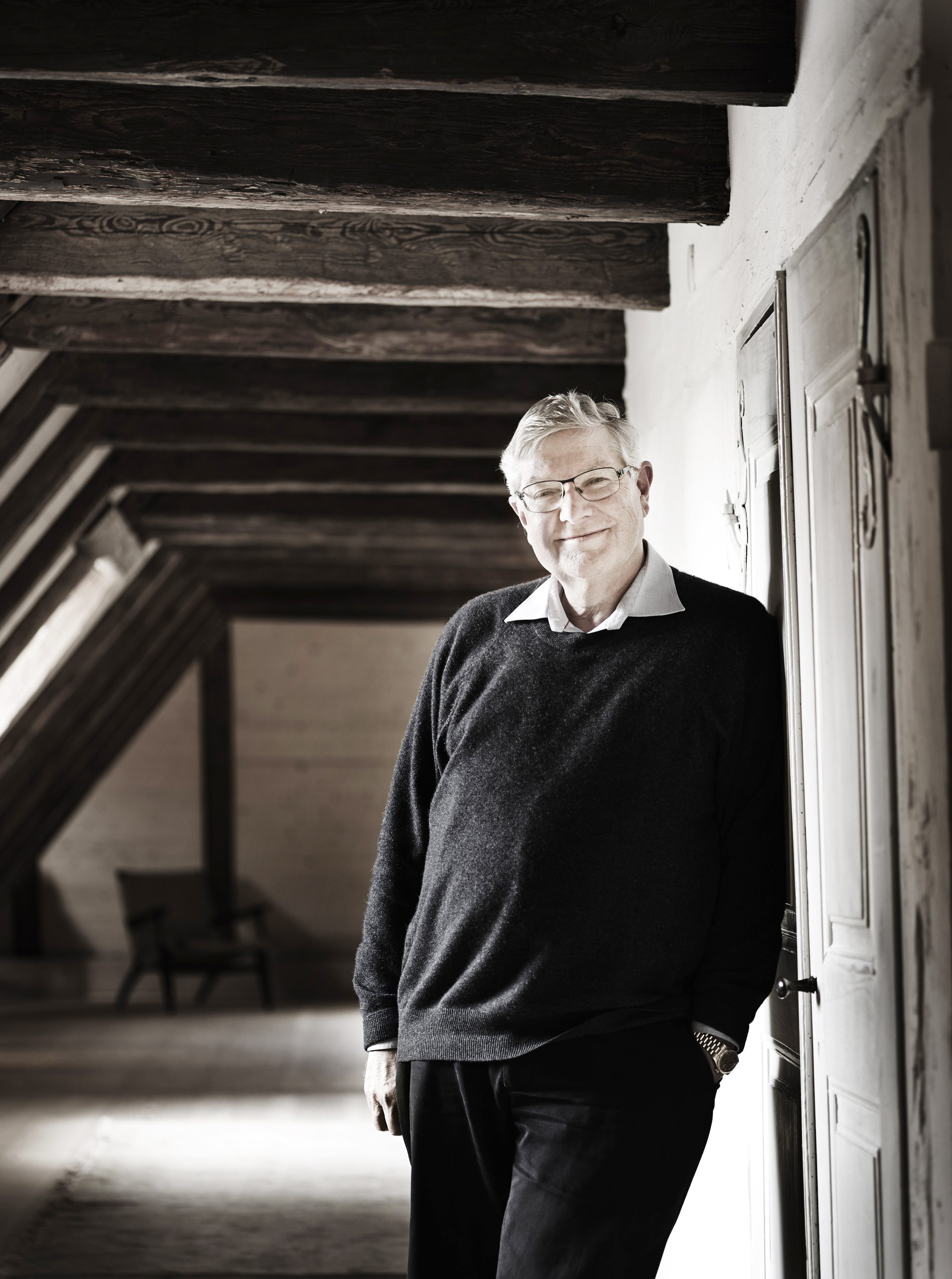 Just as each furniture item produced by Carl Hansen & Søn tells its own story, so too does CEO and owner Knud Erik Hansen's private residence on the Danish island of Funen. This story dates back to 1670 and lies within the white walls of Hellerup Manor, which today is not only the setting for an active family life, but also the perfect backdrop for many fine examples of exclusive Danish designer furniture created by Hans J. Wegner, Ole Wanscher, Mogens Koch and Kaare Klint.
On the eastern corner of the green island of Funen – the birthplace of Danish fairytale author Hans Christian Andersen, approximately 110 miles west of Copenhagen, stands Hellerup Manor. The neoclassical gem was built in Baroque style in 1670 and later renovated and expanded on several occasions, includ- ing in 1770, when its original tower was removed to make way for an interior staircase.
Hellerup Manor takes its name from the small village that surrounded the property until about the year 1500. Gone is the village, and today all that remains is the beautiful old Hellerup Church – a typical country church built in approximately 1200, its original Roman foundation still intact.
The manor itself is an L-shaped building surrounded by a moat and lush gardens. For centuries, it was home to several prominent noble Danish families, including Rantzau, Bild, Bølle, Urne, Brockenhuus, von Körbitz and Sehestedt Juul, who maintained close ties to the Danish royal family.
In 2002 Hansen became the new owner of Hellerup Manor, taking on the task of preserving the home with the story passed on for future generations. Despite its relatively poor condition at the time, his initial encounter with the historic building was a case of love at first sight.
The home required extensive renovations, which were led by conservation architects Bue Beck and later Thomas Hillerup from Design Studio Vaag, who worked carefully to preserve the soul of the Manor – and ensured respect for the property's status as a listed building. In Denmark, the State's Danish Agency for Culture is tasked with preserving buildings of architectural, cultural and historical significance; acquiring, innovating and renovating historic buildings is therefore subject to major restrictions.
"A renovation of this kind requires entering into a partnership with a skilled conservation architect, not to mention ongoing dialogue with the relevant authorities," explains Knud Erik Hansen, who himself is the caretaker of a design heritage and fully appreciates the need to preserve an object's history and unique character.
Today, the neoclassical simplicity of Hellerup Manor's exterior is expressed through its white-plastered walls, a red tiled roof, and the original, clearly defined and symmetrically placed windows. Within the one-meter-thick walls, one can enjoy white-lacquered wood paneling, stucco ceilings, and wide plank floors – an exquisite blend of typical Scandinavian and exclusive European styles.
As one would expect, Hellerup is now home to Hans J. Wegner designs of every description – as well as to classic pieces by Ole Wanscher, Kaare Klint, Mogens Koch, Mogens Lassen, Poul Kjærholm and Frits Henningsen: works that all tell their own stories, which in some cases date back three generations. Alongside these established classics are newer pieces by Danish designers Strand & Hvass, Thomas Bo Kastholm and Japanese architect Tadao Ando.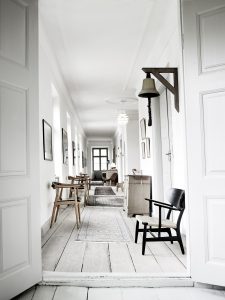 The manor also houses furniture that is not in production as well as pieces that have been in the family for generations. Antiques, art and curiosities that Hansen brought home during his 21 years abroad with the Danish shipping firm the East Asiatic Company are beautiful additions to the interior and lend the home a very personal feel.
The 18th century living rooms, whose walls alternate between English red, green and ochre, are both functional and cozy, complete with sofa arrangements, reading corners and dining areas. The expansive floor space is distributed over nearly 40 rooms that radiate a warm, welcoming ambience.
During the latest renovation, in 2012-2014, a living room and a guest room were built in the attic. The atmosphere under the rustic, exposed beams of Pomeranian pinewood is both inviting and informal. It is further accentuated by long and wide new floor planks, slanting walls, and a high-beamed ceiling. The space, which includes an open-plan office and several furniture arrangements, also features four huge chimneys that stand amid the rooms like white sculptures.
Despite the emphasis on a domestic atmosphere throughout the manor, a natural division has been established between the private rooms and those used for business purposes. The private area includes the ground floor kitchen, which offers direct access to the garden. Like the newly created attic space, the kitchen is a favorite spot – not least because it allows the family's two dogs to freely run in and out of the house. They just need to cross a small bridge over the moat. It is here, in the cozy kitchen, that the family naturally reunites at the end of a busy day. Hellerup Manor remains a vibrant home with a lived-in feel: a historical setting for modern-day life.