Neil Kleinberg's New England Clambake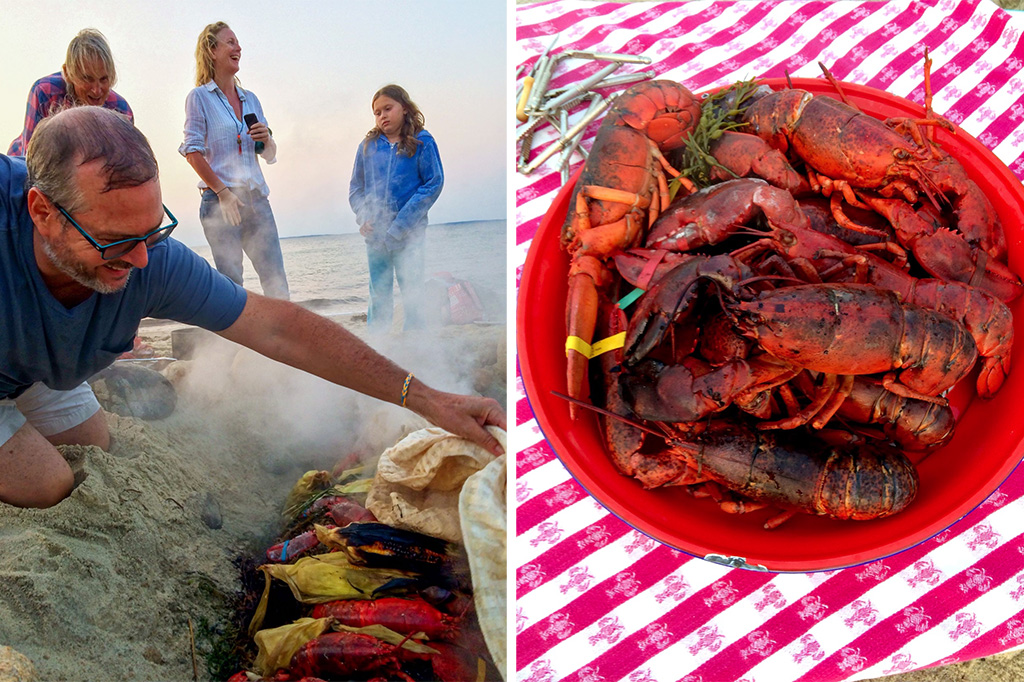 Chef Neil Kleinberg, a born-and-raised New Yorker, is no stranger to the flavors of Maine recipes. His award-winning restaurant Clinton St. Baking Company — co-owned with DeDe Lahman — features some menu items inspired by coastal New England, such as its popular wild Maine blueberry pancakes with maple butter. Here, the chef walks us through how to make a real New England clambake right by the seawater, perfect for a breezy summer get-together.
SERVINGS: 10
INGREDIENTS:
---
10
11⁄4 lb. Live Lobsters, preferably female for the red roe
2 lb.
Gulf Shrimps, size 16/20 shell on
3dozens
LittleneckClams,scrubbed
3 lb.
Mussels, scrubbed and debearded
5–6
Andouille Sausages or Smoked Kielbasa Sausages,
cut into 3 in. chunks
3–4 lb.
Yukon Gold or Red Bliss Potatoes, washed and scrubbed
10–12
Corns, left whole
2
Vidalia Onions, cut in 1⁄4 in. with the skin on
2
Garlics, cut in half horizontally
1⁄2 lb.
Bushel Seaweed (the kind they pack lobster in)
2 lb.
Sweet Butter, melted and kept warm for dipping
6
Lemons, cut in wedges for squeezing
Lobster Crackers
DIRECTIONS:
---
Step 1
At the beach, dig a hole with the following approximate proportions: 2 feet wide, 1-11⁄2 feet deep and 4 feet long. Line the hole with stones from the beach. Build a fire inside the hole, and cover it with rocks. Heat the stones for 2-3 hours.
Step 2
Remove coals or embers from the hole. Arrange hot stones evenly across the bottom of the hole. Place fresh seaweed on top of the hot stones.
Step 3
Working quickly, layer the foods evenly on top of the seaweed. Layer the ingredients in the following order: clams, mussels, sausages, potatoes, corn, onions, garlic, and lobsters.
Step 4
Cover the food with a clean, wet cloth (a cheesecloth or clean new kitchen towels are good options). Then, place the remaining seaweed on top of the cloth.
Step 5
Cover the entire hole of food with a wet tarpaulin (use some cool stones to keep the tarpaulin in place), sealing in the steam created by the hot stones and seaweed. Allow a small amount of steam to escape to relieve pressure. Let the bake cook for 1 hour or more. Once the potatoes are soft, the bake is complete. Serve the bake with melted butter, lemon wedges and lobster crackers!