One Mouth and Two Ears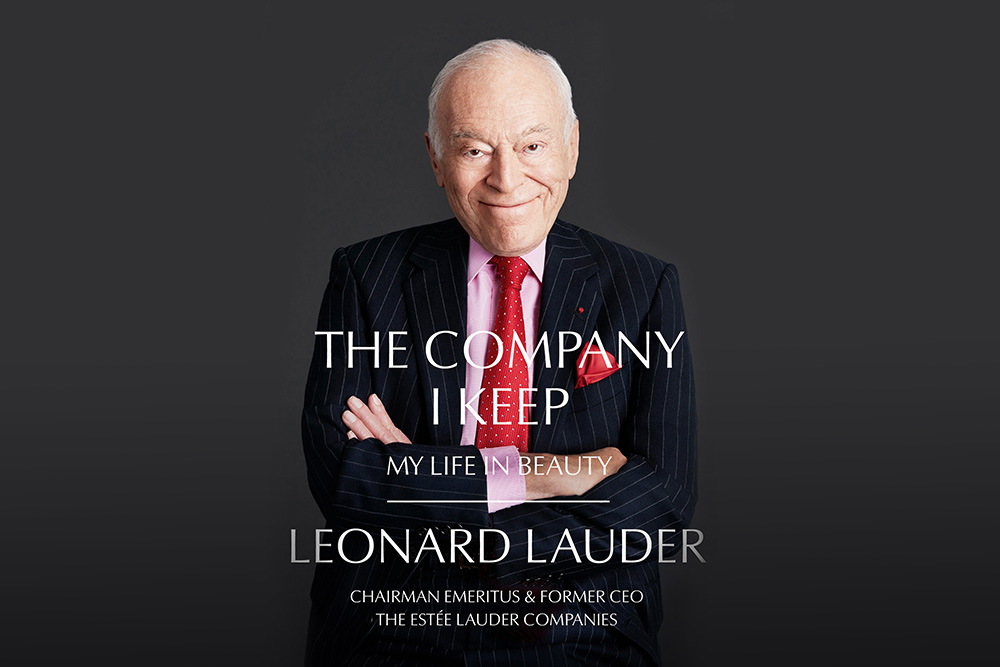 Texted by Brent D. Smith
It was like a dream. Was I really there? Did I really have this experience? It now plays out in slow motion in my mind. The camera focuses in on the back of a young 28-year-old man, nervously attempting to appear grownup but equally excited to be walking down the aisle of Isetan Shinjuku, the most important store, globally, for beauty and fashion brands in the '90s, side by side with the most powerful man in the beauty industry, Leonard Lauder. The Estée Lauder counter to the right. Clinique to the left. Chanel directly across the aisle and Lancôme next to Chanel. It is my first time meeting the legendary "Leonard," as everyone called him in the company, and I keep looking up at his face noticing his oversized ears and even larger lips, but I notice that he has placed his laser-focused attention on the Aramis counter at the very end of the store and as this is my responsibility, I instantaneously become worried.
Leonard stops in his tracks. Places his arm around my shoulders, his lips to my right ear and quietly says, "Brent, why are there so many Aramis beauty advisors at 10 a.m. on a Sunday?"
Quickly looking up at the counter, I saw the entire beauty advisor team standing at the counter like soldiers lined up for battle, and my mind jumped to an alternate universe, "What the hell, how did I not think of this? Of course, he's going to ask about all of these beauty advisors on a two-meter Aramis counter at 10 a.m. on a Sunday morning. The demo cost!" And without missing a beat, I pull back from his grasp, look him straight in the eye, and confidently respond, "But Mr. Lauder, they've all come to see you on their day off!"
And with that, Leonard Lauder, scion to Mrs. Estée Lauder, the founder of the $4 billion namesake beauty juggernaut, picked up his pace, nearly jogging to the counter, threw his arms high in the air, and right on cue exclaimed, "Good morning ladies! Thank you!"*
That is Leonard Lauder; genius businessman, in-the-trenches retailer, and consummate showman. In his recently released memoir, "The Company I Keep: My Life in Beauty," Lauder takes the reader on his childhood journey growing up in depression-era New York City with a driven mother, who as he describes "makes General Patton look like a slouch" and desires to be financially independent and provide for her family, to his education and time spent in the U.S. Navy which gave him the basis for which he took over the operations of the company and built it into the brand that it is today.
There are many nuggets of wisdom that Lauder imparts, but the most memorable are his standard business practices which the company expected from their management.
Decisiveness is the order of the day. The wrong decision is better than no decision. If it's right, bravo. If it's wrong, you'll find out fast–and fix it.
Praise in public and criticize in private.
And my favorite,
Listen. God gave you one mouth and two ears for a reason!
The final section of the book reflects on his passion for collecting as well as the numerous foundations and causes that he supports all culminating in the legacy that Leonard Lauder will leave behind as he states in his memoir, "I'm certainly proud of creating and nurturing products and brands… But what I'm most proud of is mentoring people and helping them grow."
I am lucky to have met this extraordinary man and we are lucky that Leonard Lauder has written this memoir.
Available on amazon.com
THE COMPANY I KEEP BY: LEONARD LAUDER
HARPER BUSINESS / HARDCOVER
PUBLICATION DATE: NOVEMBER 17, 2020
ISBN: 9780062990945
PP: 432
*He wasn't fooled by my response. But he knew that he had taught me a lesson… always think about your fixed costs and never put on a show for a visiting executive. It was never mentioned again.