Thai Craft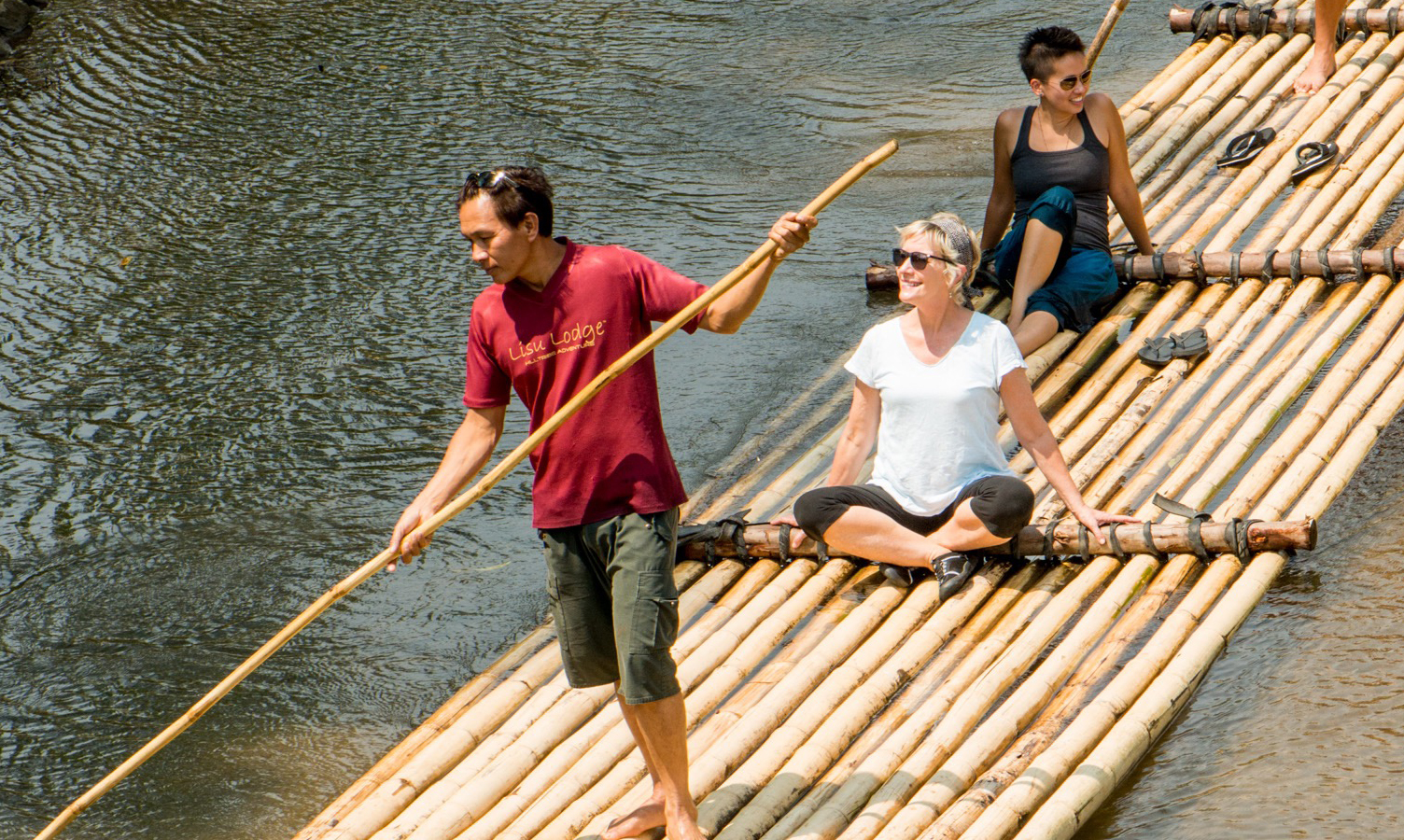 Lisu Lodge is a hill tribe style lodge nestled in the valleys of Mae Tang. A short hour drive north of Chiang Mai brings you to the peaceful and serene hideaway within a mountainous landscape. At the lodge they work hard to truly embrace the essence of sustainable country living. From the food you eat to the soap they provide, every part of the experience is carefully crafted.
You can relax in one of their 4 comfortable traditional Lisu style homes with spacious patios overlooking the rice fields while eating traditional northern-style Thai food served with organic rice and fresh vegetables brought directly from the garden. Our favorites are Nam Prik Ong, a tomato-based dip with ground pork and curry paste and Khao Soi, a noodle curry soup with a coconut milk base.

For daytime activities, you can simply unwind with a Thai Massage or visit the local village. Our take is to get adventurous with their 'Triathlon' which combines hiking trails, mountain biking and bamboo rafting – all in one go. During the excursion, the lodge will pack a cute 'Bento Box' and let you do your own picnic under a shaded tree. The box usually includes delicious grilled chicken or catfish, sticky rice, chili dip, pork jerky, hard boiled egg and fruit/dessert. After lunch, we do a short hike before letting loose on the bamboo rafting. They also provide tubes should your group want to float along the creek to cool off.

Immerse yourself in the culture and learn all about how the lodge co-exists with the village, both supporting each other. Their newest activity is visiting Araksa, an all-natural tea plantation right down the road – a short bike ride so you can enjoy the view along the path. At Araksa, Charlie, their jolly tour guide will take you on a 2 hour tour through the plantation; learn about tea growing and its process, pluck your own tea leaves from the garden, watch a hand roasting demonstration and sip a nice of cup of tea and snacks in the tea room. A visit to Araksa is unlike any tea plantation you have ever experienced. It is authentic and simple as the way it should be.
Simplicity is definitely the core of our relaxing weekend here. Nothing fancy but completely fulfilled mother nature, authenticity and the hospitality at Lisu Lodge. Until next time!