The Professor's Plan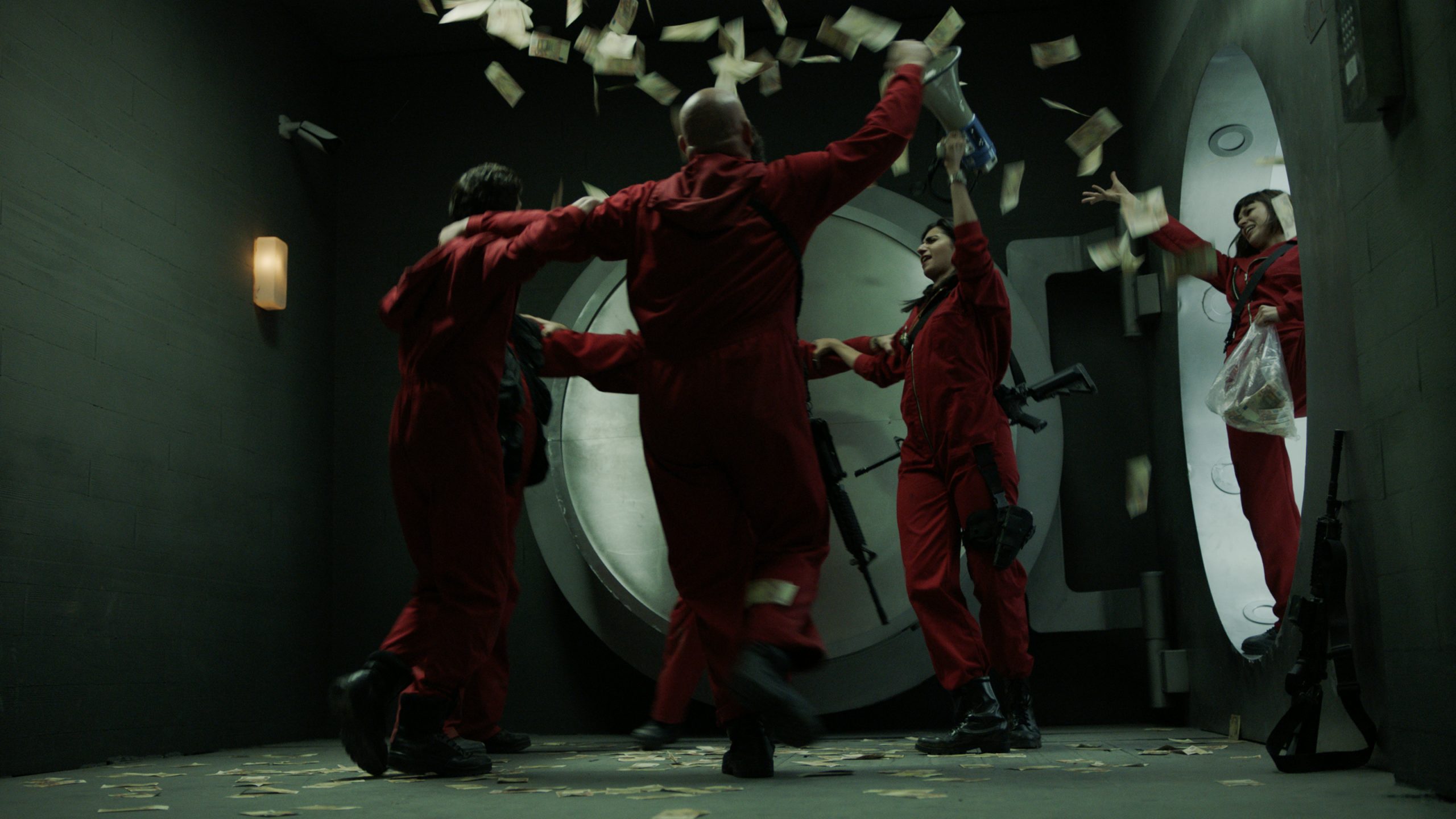 Text by Chanintr Sirisant
"IN THIS WORLD, EVERYTHING IS GOVERNED BY BALANCE.
THERE'S WHAT YOU STAND TO GAIN AND WHAT YOU STAND TO LOSE. AND WHEN YOU THINK YOU'VE GOT NOTHING TO LOSE, YOU BECOME OVERCONFIDENT."

— THE PROFESSOR
In times like these, what could be more needed than an escape? A few hours a day where you're free from video calls (and the inevitable technical difficulties that come with it), depressing headlines and crisis management. An escape from the realities of not being able to go out, to travel or to get together with friends. Interested? In that case, how about an escape to the Mint of Spain? Free of pandemics and full of thrill, we chose to live in Money Heist's alternative universe at the height of COVID-19 and enjoyed every minute of it.
During social isolation, you would think that we would pick something lighter to watch at the end of the day, but what we ended up getting hooked on was Money Heist, a Netflix-acquired show that is the number one international series on the streaming service. Created by Alex Pina, Money Heist was actually a flop when it debuted on Spanish television in May of 2017. However, by the end of the same year, Netflix purchased the international rights, re-sliced and diced the episodes and added other audio languages before making it available worldwide in early 2019. At the same time, the streaming giant began funding Part 2 and another 16 episodes. The rest is history.
I suppose it wasn't so difficult to figure out the addiction factor of this particular piece. It is pure and simple entertainment—a thrilling storyline topped with a beautiful and crazy cast set in Spain. We like our films like our food: uncomplicated, true to its origins, easy to understand and full of flavor. With Money Heist, we found ourselves in bed by 8.30 every night for a week, pajamas on, remote in hand, ready to finish two (sometimes three) episodes—hearts throbbing till the last minute—before heading to bed.
Without spoiling it for those who have not seen it, Money Heist is the ultimate in extremities of plots, characters and themes. A good looking professor 'nerd' leads the heist of the Mint of Spain, bringing along a group of unusually good hearted misfits under a 'do no harm' mantra. After recruiting them to a beautiful estate, the professor spends a good part of a year training and educating them. Each of the robbers is not allowed to reveal their true identity, and instead are given cities as names—Tokyo, Berlin, Nairobi, Rio and so on. They are also not allowed to fall in love with one another (you can guess the outcome of that rule). When the time comes, they finally take hold of the Mint and along with it, 67 hostages who themselves are another bunch of characters you will learn to love, hate and care for. Each of the robbers pulls you in to connect with them emotionally, one by one, until you have found the one that you identify with most. And that is the hook. Each one has his or her own struggles and devils to manage, and as the viewer, you are simply going along for each of their rides.
The impact the series has had is much farther reaching than us Netflix binge-watchers. It has touched the hearts of rebels and those resisting corrupted political forces worldwide, post-financial crisis. The irony and charm of the whole story is that the group is not really taking over the Mint of Spain to rob what is already there, but merely to 'borrow' the presses to print some money for themselves—just like the 1% did when they crashed the market in 2008 and needed to fund a way out. The series has inspired real movements to wear the same Dalì masks and red jumpsuits as the actors and most certainly made the anti-fascist Italian song "Bella Ciao" a worldwide hit during the summer of 2019.