Transforming Transferware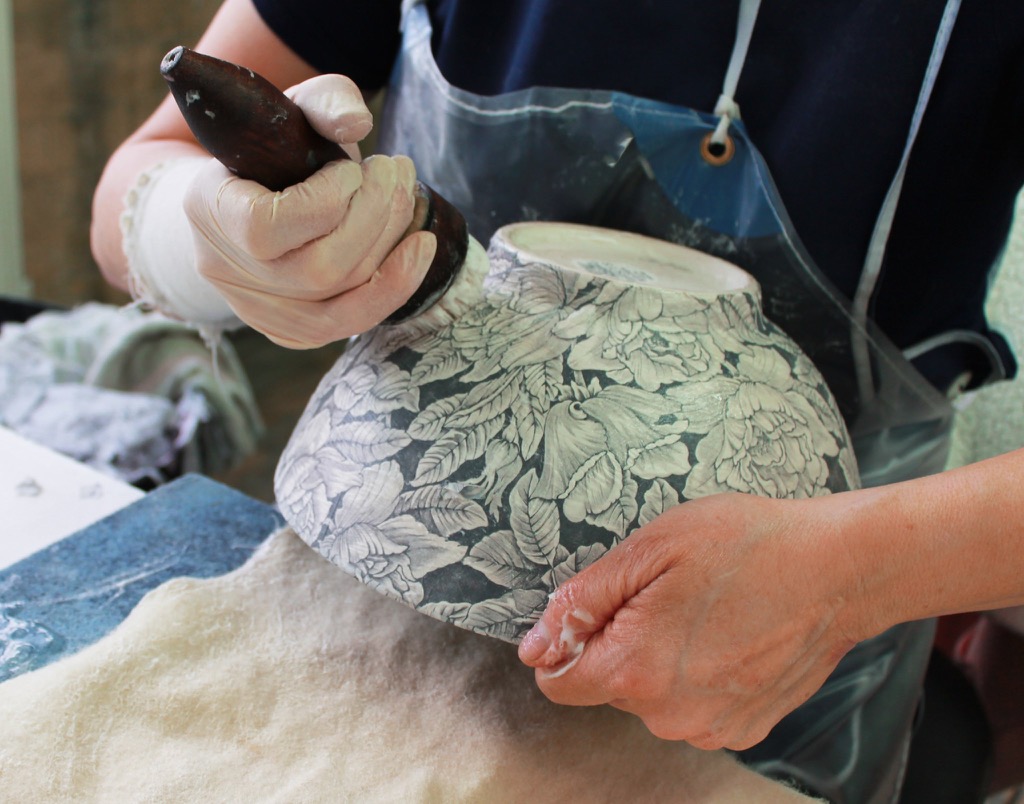 Texted by Brent D. Smith
Several years ago, Middleport Pottery, nestled in the heart of Stoke-on-Trent, England, was on the brink of closure. Constructed in 1888 for local ceramics company, Burgess & Leigh Limited, it was considered a national treasure and much loved by the local community. The Burleigh pottery produced by Middleport Pottery was beautiful and unique, and many of the workforce had been there for decades, passing down craftsmanship through the generations. But by 2010 the buildings were in such a state of disrepair, Middleport Pottery and thus Burleigh looked destined to close.
Burleigh Pottery has had its ups and downs. First going into receivership and then sold in 1999 to an investor who looked to retain the craft of transferware as it is commonly called by collectors who love the blue and white stoneware. Transferware is achieved by printing designs from hand-engraved copper plates onto tissue paper and then transferring the design to once-fired bisque ware which is then glazed and fired again, creating the final product. Burleigh is the only pottery in the world to still use this highly skilled, 250-year-old process. The entire process is done by skilled artisans, one piece at a time.
Finally, in June 2011 a most venerable person took notice and Burleigh's fortunes changed. Through his foundation and regeneration trust, HRH The Prince of Wales stepped in to save Middleport Pottery. Working with the United Kingdom Historic Building Preservation Trust, they put together a private and public funding package that allowed Middleport Pottery to embark on an ambitious three-year restoration project allowing Burleigh Pottery to reopen to the public in July 2014.
Along with the complete renovation of the factory, new workshops and craft areas were created, alongside a café, gallery and heritage visitor center. The new visitor experience includes tours of the Burleigh factory, where visitors can see the handcraft techniques that have been used since the 1800s. Much of the Burleigh staff have worked there for decades, and in some cases their families worked there, too, passing their craftsmanship down through generations. "Burleigh uses craft skills developed over generations to create ware that spans fashion and trends," says the company's managing director, Jim Norman. He goes on to explain, "Burleigh is genuinely different to all other ceramic brands, and it is these differences that are increasingly being valued and recognized."
In keeping with Burleigh's dedication to craft, in 2018, Burleigh and Ralph Lauren collaborated on a series of three exclusive Ralph Lauren designs — the first time ever that Burleigh has featured anyone else's original patterns on their original pieces. Burleigh Pottery retained their skilled team of craftspeople as it takes many pairs of hands to create a single piece of Burleigh pottery, and each piece is meticulously hand-finished. Creating something good, something that lasts, something that is above fashion and trends, something timeless, can't be hurried. As company historian Jemma Baskeyfield sums it up: "These are the heirlooms of the future, combining the heritage of the past, that beg to be used in the homes of the present."