Eat to Beat Disease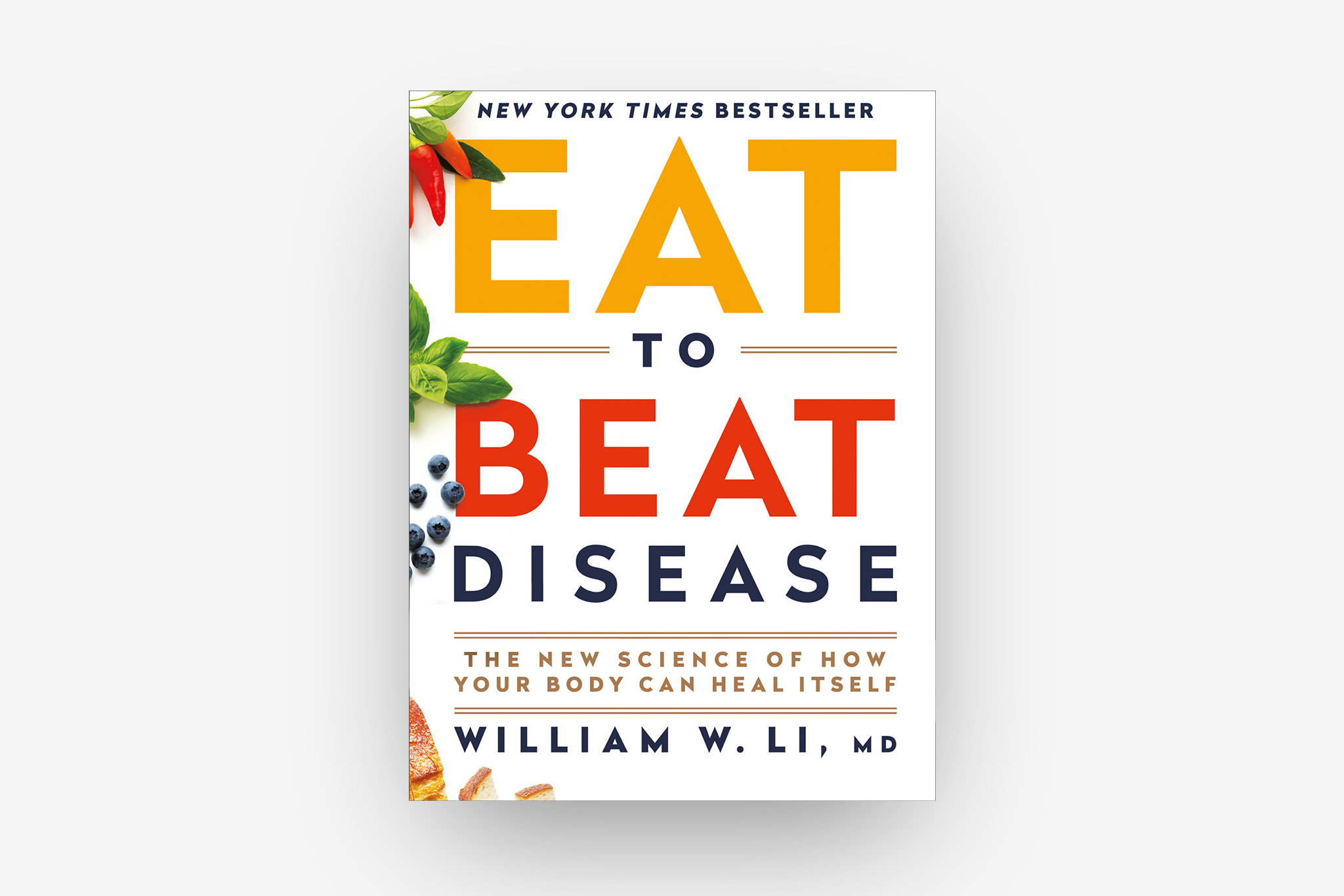 Text by Chanintr Sirisant
When a good friend kindly gifted me a copy of "Eat to Beat Disease" by Dr. William Li, I have to admit that the title made me skeptical, even with the credibility of the giver in mind. What saved it from my third-floor bookshelf, was the 'New York Times Bestseller' stamp and the many endorsements on the back: one from Dr. Mark Hyman, a functional medicine leader I follow; my mom's favorite Dr. Oz; Dr. Dean Ornish, another famous physician and nutritionist; and to cap it off, health-conscious celebrities like Cindy Crawford and Bono.
Ten years ago, I had an extremely rare case of a benign tumor growing on a facial nerve blood vessel in my middle ear that led to a 9-hour long brain surgery and an extended recovery period.
Since then, I do pay close attention to my health and what I eat. I have generally avoided the one-size-fits-all diets and the trendy ones that come and go. Instead, I favor organic, whole food-based meals that are balanced and personalized, such as functional medicine, blood type diets or avoiding food intolerances. Reading Dr. Li's book was eye-opening, as it helped me better understand the importance of eating right, and the science behind such grand claims.
The proliferation of information online about health can be confusing, and at times contradictory. But what if there was one source of information that we knew had been vetted, researched and tested by not one but multiple sources? What if this list of food was extensive enough for us to actually find a lot of things we like eating – all while avoiding disease? That is what "Eat to Beat Disease" is truly about. Sustainability, not in the green sense, but in the sense that because there are healthy food out there you actually like, you will be able to stick to your plan. Simply speaking, the key to the program is knowing what is beneficial to you and making sure you get enough of it regularly. And you will be surprised that the good stuff is really good stuff (I suspect Dr. Li is a foodie himself). Truffles, iberico de bellota, prosciutto di parma, parmigiano reggiano, caviar, bottarga, kimchi, coffee, beer and red wine all make the list but are tempered by the caution of moderation; or for prosciutto, eating it the way the Italians do, a few slices as an appetizer to a special meal.
"Eat to Beat Disease" takes you through the five major systems our bodies use to defend itself against disease: 1) Angiogenesis or your network of blood vessels and their ability to grow or contract 2) Regeneration or your system of turning on stem cell production when needed 3) Microbiome, all the 37 trillion bacteria in your body and how they support your health 4) DNA protection, being under regular attack our DNA need a strong system to protect them and 5) Immunity, which not only protects us against the common cold but also kills cancer in our bodies. These foundational systems are explained in a fascinating and easy-to-understand way, as Dr. Li delves into the strategies and foods that these systems thrive on. One cannot read these chapters without being left in awe: from what our bodies are capable of, the defense systems we have working for us, and even the researchers who are discovering all of this insight for us.
Dr. Li brings all the research and information together for you in a way that is simple, practical and flexible. He introduces a 5 x 5 x 5 program that stands for: the five major systems mentioned earlier; picking five health-supporting foods you like to eat in a day (one for each system) and eating at least one of them on the five occasions you should eat – breakfast, a morning snack, lunch, an afternoon snack, and dinner.
My wife and I had fun going over the list to determine what we both liked together, as well as how our individual tastes differed. We then mapped these out to the five different systems and since then have been making sure to hit as many as we can. We try and get a lot of it done for breakfast so we can worry less about it for the rest of the day. Our breakfast granola, for instance, has olive oil, walnuts, dried cranberries, sunflower seeds and maple syrup. Drenched in organic sugar free soy milk, and served with French press coffee and cold pressed greens on the side, we've pretty much hit more than five of Dr. Li's recommended ingredients in one meal.
What I find is that once you are aware of all the good things, you tend to gravitate in that direction when ordering at restaurants. A 'quality over quantity' mantra begins to set in and you become much more discerning when eating the stuff that isn't so good for you. I no longer bother ordering mediocre beef and wait for things like a dry-aged Spanish free range beef when I do have a craving. Or with the help of a Coravin, enjoy one really good glass of red wine with dinner rather than a few glasses of the usual stuff.
So, what about the more personalized diet and not following a one size fits all approach? Dr. Li also believes that more and more we will be moving towards personalized diets based on each person's needs, which includes our likes, dislikes, allergies and sensitivities. For example, I still avoid eggs, as my test results show I have a high intolerance for it. Dr. Li also recommends taking a risk assessment test, which comes in the book, to determine our risk level for diseases and how careful we should be with our diets.
Although I am no expert, I feel the book presents an excellent consolidation of solid and extensive research on foods and their impact on what is unequivocally agreed to be our foundational defense systems. In addition, it offers a very practical way to eating our way out of trouble. I could not think of a better way to diet than to eat more of what we like while being aware of the things that aren't so great for us – only saving them for the occasional cheat day.
William W. Li, MD, is a world-renowned physician, scientist, speaker, and author of "Eat to Beat Disease – the new science of how your body can heal itself." He is best known for leading the Angiogenesis Foundation. An author of over 100 scientific publications in leading journals such as science, The New England Journal of Medicine, and The Lancet, Dr. Li has served on the faculties of Harvard Medical School, Tufts University, and Dartmouth Medical School.