Sailing Sunset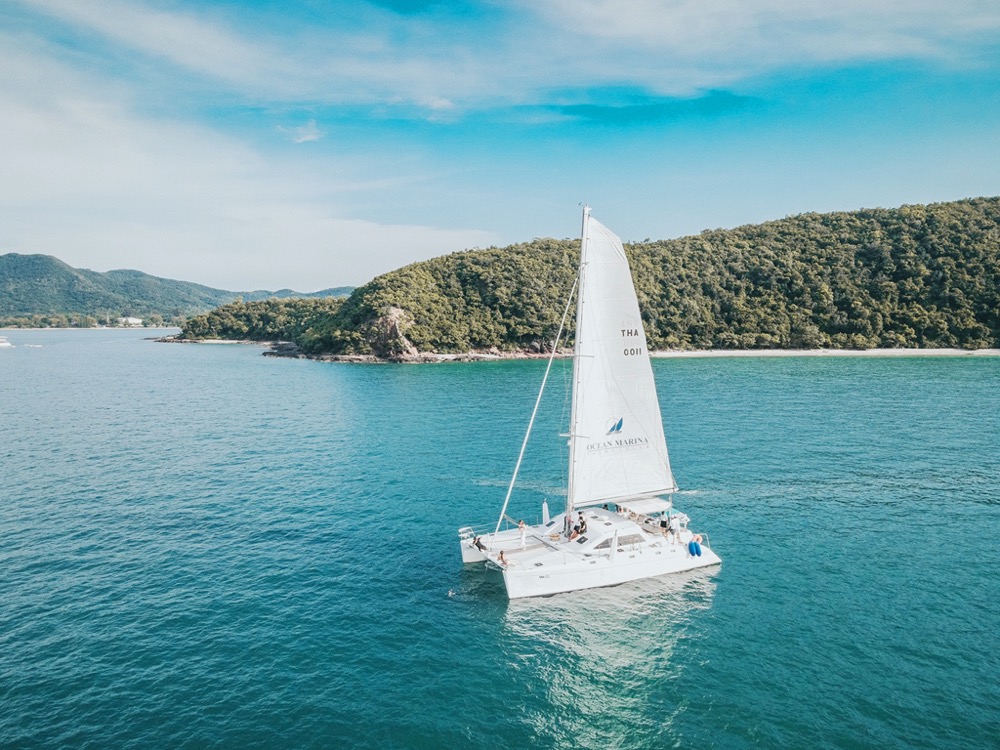 Text by Uracha Chaiyapinunt
Many don't know that clear blue waters and sandy shores — those that rival even the most beautiful islands in the south — can be found just 1.5 hours away from Bangkok. Conveniently accessible by way of a newly opened motorway, Ocean Marina Yacht Charter offers private yacht trips from Pattaya to several surrounding islands throughout the year. Its proximity to the city, excellent service and the scenic journey at sea make it our pick for quick family getaways.
The business's three yachts belong to the owners themselves, a family with a passion for yachting and sailing who hope to share their love for the ocean with others. Now, as the third generation takes over, Ocean Marina Yacht Charter has gone through a rebranding that has not only led to a new digital identity and social presence, but also the introduction of new services and amenities that the owners are hoping to distinguish their boats from the competition.
"Yacht charters have become more and more popular over the years. While others might be focused on creating picture-perfect moments for their clients, we have created an authentic and unique experience centered around exceptional service and hospitality, ensuring that everyone has a really great time," said Win and Sun Assakul, the two brothers at the helm of the project. "The most fulfilling moments so far have been seeing returning customers pick us over and over again."
The duo have already partnered with local, eco-conscious brands to elevate the offerings on board. All toiletries, for instance, are organic and reef-safe to minimize the company's impact on the sea. Renovations have also been made to the yachts; decorations bought and artworks hung up to make the space feel as homey as possible.
So what can customers expect from their trip Ocean Marina Yacht Charter? Lots of laughter and fun. The boats are all equipped with modern day amenities to make your trip out to sea a pleasant one — air conditioning, bedrooms, showers, bathrooms, you name it. Kayaks, paddleboards, snorkeling gear, fishing equipment and Bluetooth waterproof speakers are added entertainment. In short, Ocean Marina Yacht Charter makes it easy to sit back, relax, soak in the sun and take in the amazing sights of what the Gulf of Thailand has hidden for us.