Meet the New Collection from Minotti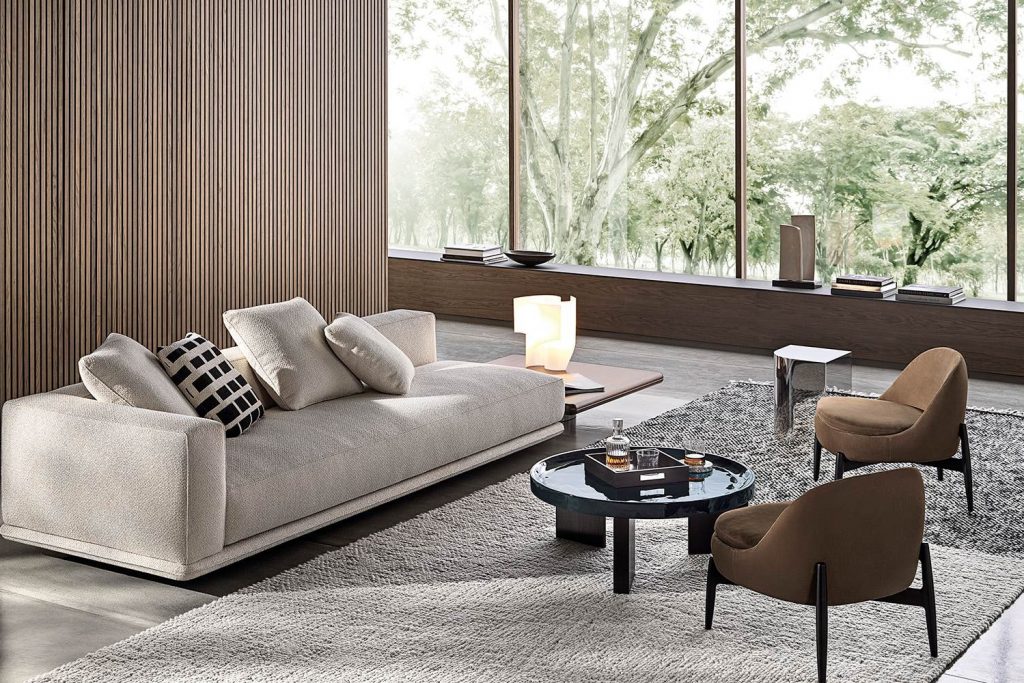 Meet the New Collection from Minotti
Featuring a diverse range of forms, imagery and references from around the globe, Minotti's new collection highlights the brand's ongoing evolution and dedication to its signature aesthetic.
Both the Goodman and Horizonte collections embody Minotti's dedication to timeless design and exceptional craftsmanship. Experience the sophistication and comfort of these collections in your home.
Visit the only Minotti store in Bangkok at our Thonglor showroom.
Goodman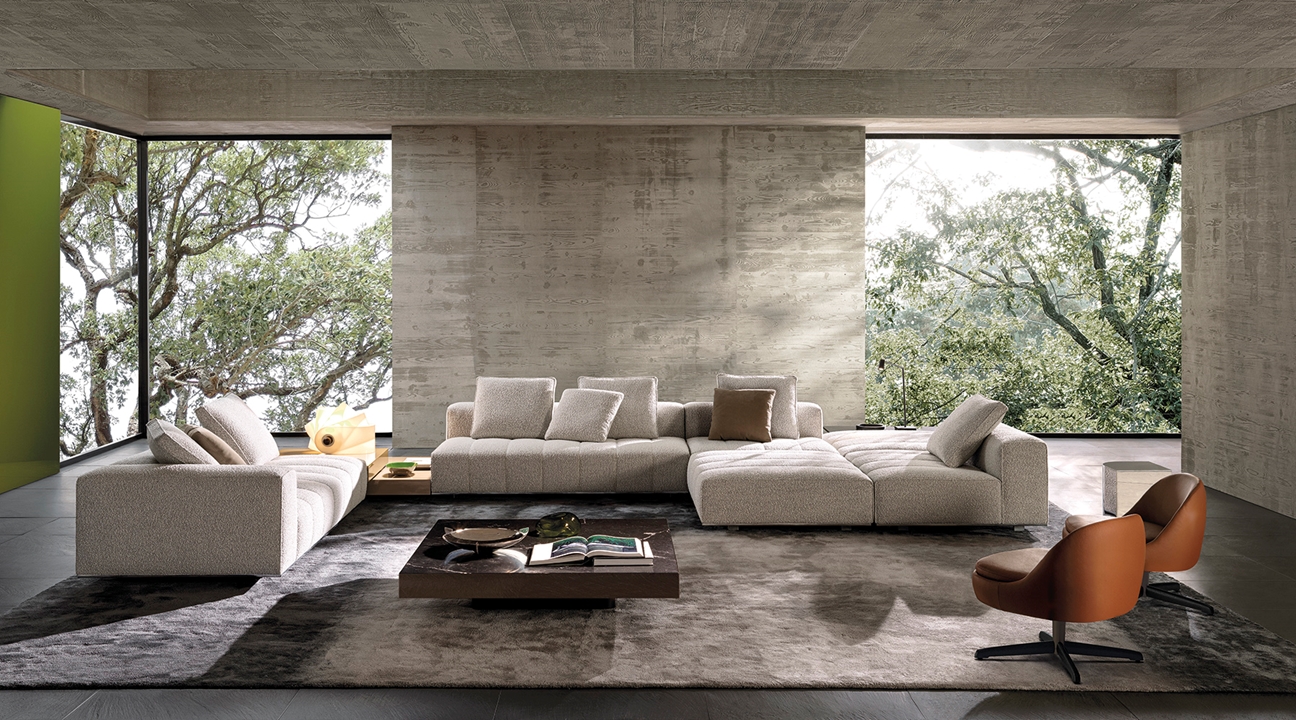 Goodman is a modular seating system designed by Rodolfo Dordoni with a clear 1970s imprint. Inspired by the graphic character of the 1970s, the matelassé stitching — a signature of Minotti's tailoring processes — adds depth and dimension to the seat, creating the sensation of a quilted cross-padding. The system is suspended from the floor on refined bronze or polished chrome metal feet, giving the sofa a feeling of suspension. The volume of the one-piece seat is ergonomic and comfortable thanks to the use of pocket springs combined with a layer of polyurethane padding in layered densities.
The Goodman collection includes a range of individual components, including end units, corner units, central units and chaise longues, that can be combined to create traditional or dynamic configurations that adapt to the space and evolving living needs of the individual.
Horizonte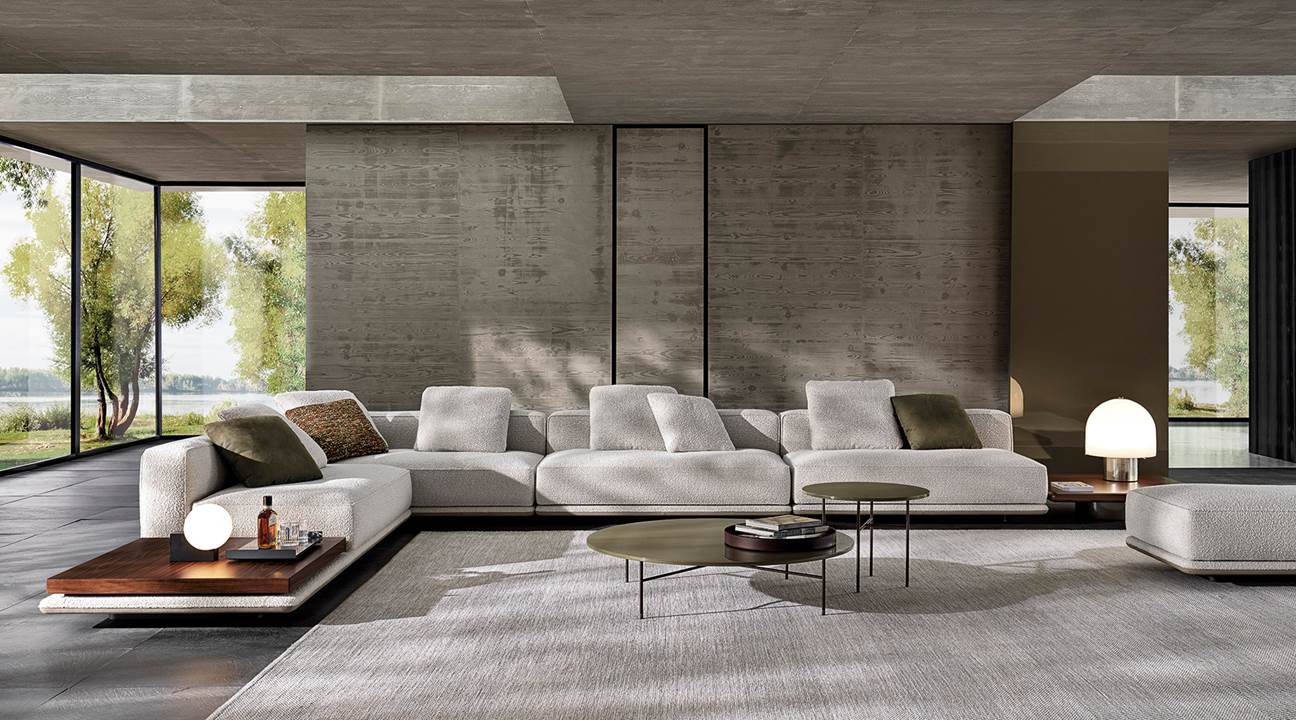 The Horizonte collection, designed by Marcio Kogan and studio mk27, features a floating island with square lines that marks the horizon of the living space. The system takes shape from a suspended base, a solid thin line covered in leather, fabric or both, on which generous volumetric padded elements rest. The base is raised seven centimetres off the ground, giving the sofa a special feeling of suspension. The upholstered elements — seats, backrests and armrests — are all conceived as large cushions with bold proportions and a strong personality. The base is available in leather, fabric, or a mix of both, with a removable covering in the fabric version and a lapped covering in the leather version. Horizonte also includes coffee and side tables with polished bronze metal bases and wood tops in various finishes.
Softness, formality and sophistication combine to create an unparalleled style. And with the ability to combine modules, sloping elements and others with built-in coffee tables, Horizonte offers endless configuration options.
---
More from blog