Hilltop Haven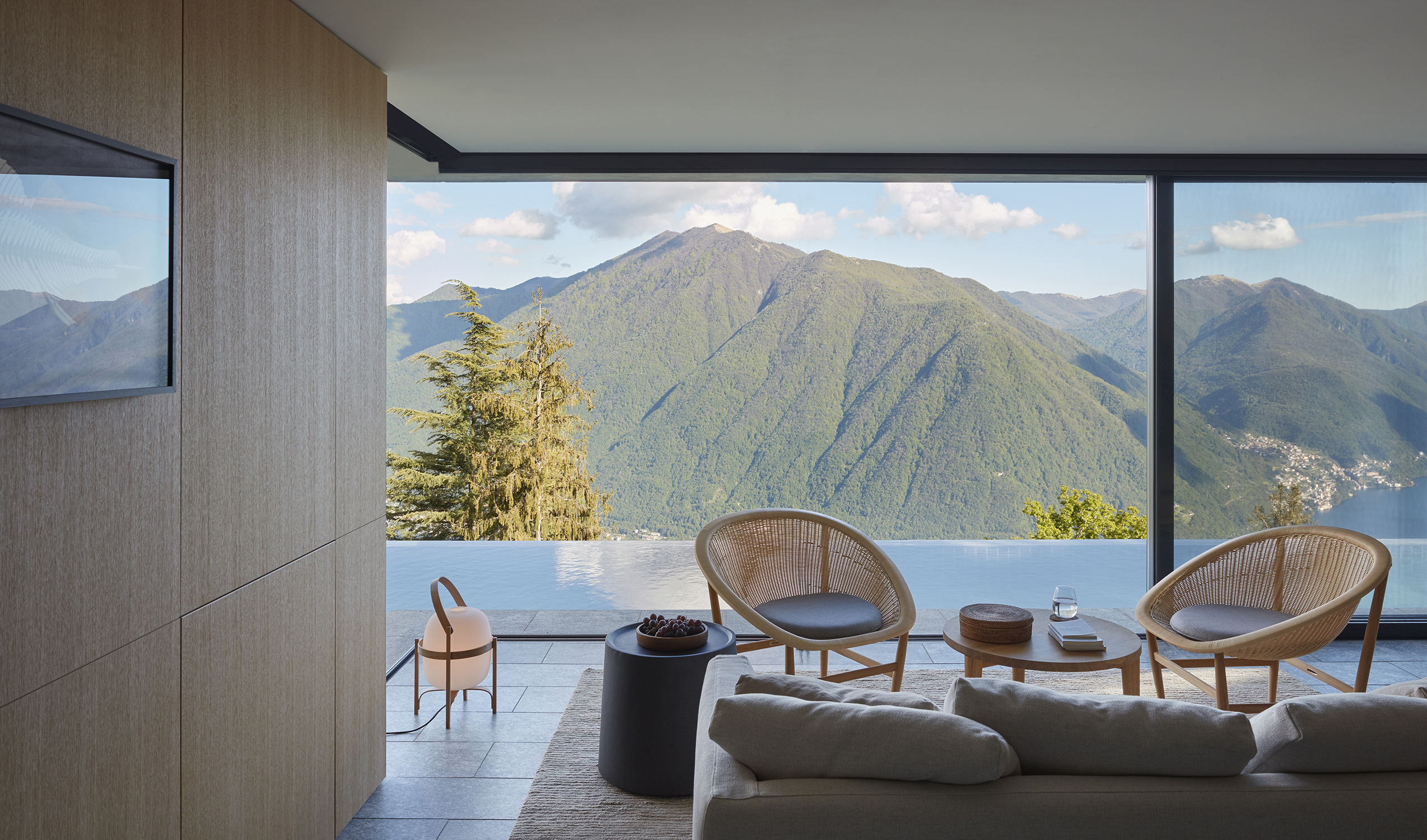 Text by Albano Daminato
VILLA PEDUZZI, LAKE COMO, ITALY
If your dream holiday involves embracing your inner Sophia Loren then this stylish northern Italian villa is designed to tick all of your boxes. Perched high on a wooded hilltop on the edge of a quiet village, Villa Peduzzi commands jaw-dropping views over Lake Como and its surrounding mountain-scapes.
Constructed in 1909 by its namesake and patriarch Rocco Peduzzi, the villa served as a grand family home to the Peduzzis until it was left largely abandoned until sometime in the 1960s. Discovered in 2015 by its current owners, our studio was called upon to spearhead the ambitious overhaul of the villa interiors from conception stage to final key hand-over. Attention to detail and a strong geographic contextural solution to each project are hallmarks of our studio, and in Como, we were entrusted to reinstate a lost era of elegance. Initial work included recording the existing historical elements and a reorganization of the floorplans over four main living levels, plus additions to lower basement areas. Capacious marble-lined bathrooms were carefully inserted, directly connecting each one to the nine guest bedroom suites. Our attention then turned to the full furnishing and accessorizing of the villa, with much of the interiors fully custom designed, including the cabinetry, furniture, textiles and hardware.
To reinstate historically correct interior finishes such as terrazzo or painted frescoes, specialized artisans were sought out. The sinuous pastel-hued ceiling designs synonymous with the architectural style of the period were fully restored where possible, their colours providing inspiration for our new finishes palette. With modern conveniences inserted as discretely as possible — be it lighting and audiovisual systems to thermal controls such as under-floor heating — the villa was fully completed for use again by September 2019. With spacious sleeping for 18 in the main building, Villa Peduzzi comfortably accommodates large extended families, intimate groups of friends, or simply a very secluded escape for two.
So how would Sophia while away her days here you ask?
With its contrasting seasonal changes, Villa Peduzzi's mood alters with it – long summer days invite alfresco dining on the numerous terraces or basking in the sun by the infinity lap-pool overlooking the lake. Picture perfect snow-covered winter days draw you close to indoor or outdoor fireplaces, cosy daybeds and libraries, or by the grand piano with an appropriate aperativo in hand. A gymnasium offering expansive views towards Como and steam shower facilities are located in the extended basement, a quality golf course nearby, and popular mountain-hiking or bicycle trails right beyond the villa gardens and plans afoot for a private tennis court, your fitness requirements should be taken care of. Or simply lie about and master the art of dolce far niente.
Villa staff are on hand to pamper you and cater meals throughout the day, or if you'd prefer to take command of the pasta pots yourself (in true Ms. Loren style) there is a choice of well-appointed kitchens throughout the villa and pool pavilion to choose from.
If you feel compelled to explore life beyond the villa's gates, then the bordering village of Pigra offers very local trattoria and pizza stops, or the unique nearby cable car service whips you down in under a few minutes to the lakeside village of Argegno with its restaurants, a must-do gelateria and a chance to pick up any other essentials! The villa also moors its private boat in here, making it a convenient launch pad to tour the neighboring Lake Como villages, historic properties and islands.
Reached by car in under 90 minutes from Milan's Malpensa airport, this little slice of sophisticated Italy can be yours, for a while at least, by contacting the Villa directly at concierge@villapeduzzi.com.