Social Distance Under the Stars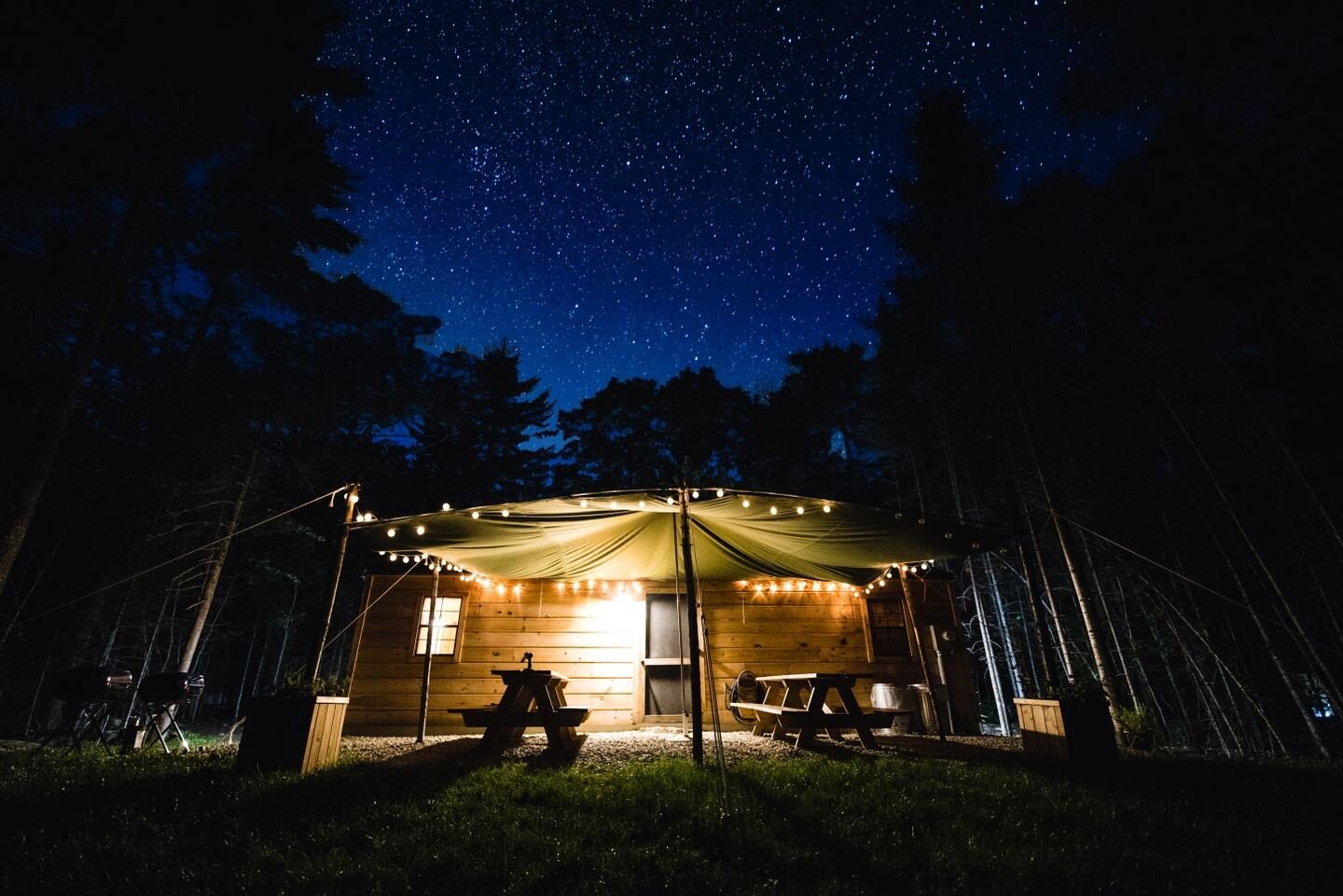 Text by Teerin Julsawad
Glamping — a portmanteau of the words "glamorous" and "camping" — brings together modern amenities and yesteryear's charms. Though more extravagant than traditional camping, with resort-like services and luxury features one might typically expect from more upscale hotels, glamping-goers also get to indulge in all that nature has to offer without sacrificing comfort. And after a year of quarantines and indoor activities, it is the perfect travel trend to embrace in 2021.
Tops'l Farm in Waldoro, Maine, offers all of the above, and elevates the notion of glamorous outdoor recreation to new levels. Situated on the banks of the Medomak River, Tops'l Farm is an 83-acre farm and campground retreat destination. The farm's history dates all the way back to 1936. Current owners Sarah and Josh Pike — who both grew up in Maine — purchased the property after stumbling upon its listing in 2015. Since then, they have worked to transform and reimagine the expansive space for new kinds of experiences.
Today, the farm offers a plethora of activities for guests throughout the year: axe-throwing, archery, stargazing, board games, film nights, paddle boarding, beekeeping, croquet, foraging, cocktail classes, fly-fishing, canoeing and much more. On top of that, a variety of culinary events and dinners are hosted at the farm each season. Enjoy fresh, local produce and melt Swiss raclette cheese around the cozy campfire during the chilly winters of Maine. In the spring, freshen up by the Medomak River with natural and biodynamic wines and craft beers from Maine while basking in the sunshine.
At Tops'l Farm, guests embrace the best of both worlds. Here, the tranquil setting coexists harmoniously with luxury amenities. Accommodations include safari-style tents and A-frame cabins, furnished with two twin beds and feature private outdoor campfire space. For an even more elevated experience, guests can also opt for a two-bedroom fully-furnished Maine-style cottage or a four-bedroom farmhouse cabin equipped with a chef's kitchen and marble countertops.
The newly constructed barn and riverside yurt also boast impressive event spaces for large gatherings, from private dinners to parties of up to 150. Additionally, Tops'l Farm offers elopement packages for couples looking for the ultimate rustic wedding experience. So it should be no surprise that it's a venue of choice for many brides and grooms each season. No matter what the prompt is, the creative team at Tops'l Farm is ready to assist in planning a magical experience.
The glamping ground is an ideal destination for those looking to relax, unplug and spend quiet time in the woods whilst maintaining ease and comfort. Rest assured that city dwellers, who may not be accustomed to traditional camping practices, will not feel out of place here. Indeed, Tops'l Farm may just be the perfect getaway for people to spend a night or two outside, away from their bustling lives and urban homes. The result is a distinctive and more refined outdoor experience, yet still staying true to the roots of a conventional camping adventure.
@TOPSLFARM