Summer with Choux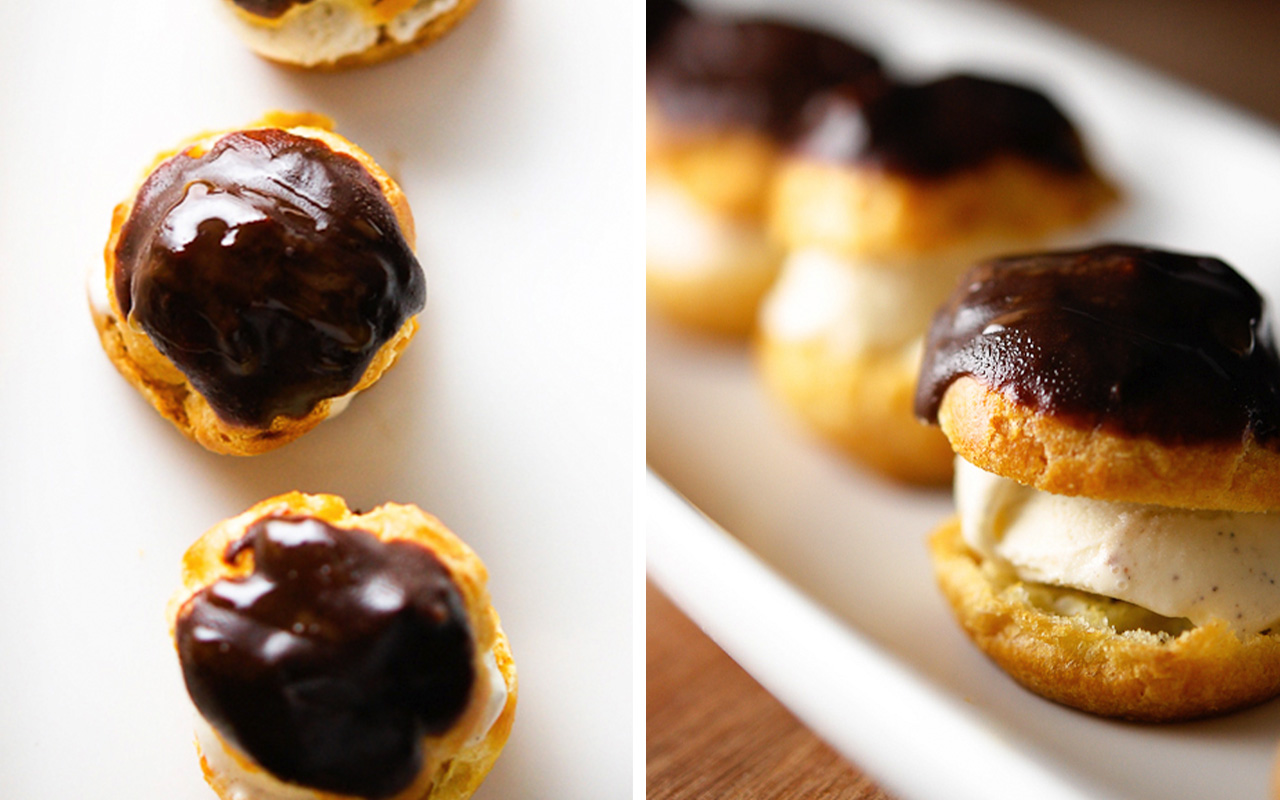 Text by Teerin Julsawad
They're warm. They're delicate. They're drenched with chocolate sauce and melt in your mouth. What's not to love?
A profiterole (or perhaps more generally known as a "cream puff") is a filled French choux pastry ball with a usually whipped cream or ice cream filling. The most versatile of treats, profiteroles can be enjoyed at any moment. Whether you need a treat to fill your sweet tooth or are looking to celebrate something special (I once had a tower of hundreds of profiteroles for my birthday), profiteroles will always fit the bill and make the occasion seem that much more special. It's hard to deny the fact that profiteroles are delicious and addictive if you've ever had one. These French delights are enjoyable any time of the year, but their light, airy texture makes them an excellent summer dessert. (It's worth noting that profiteroles have historical ties to both France and Italy. The dessert was supposedly invented by the Italian head chef of Catherine de' Medici, the Italian-born Queen of France.)
I've always had an affinity for choux pastry, not only because it is crispy on the outside and fluffy on the inside, but also because a perfectly made choux pastry is a mark of excellent skill. Some may argue that it's incredibly simple to make, but I've had my fair share of poorly made choux pastries in proper settings, so I'm inclined to disagree.
I have always struggled with how to answer meaningless small-talk questions like "What is your favorite food?" So I often respond with "profiteroles," after all, I sample more than a dozen of them from different places every year.
My personal favorite variety is with a vanilla ice cream filling, instead of the more usual cream filling, often found in French and Italian restaurants. Otherwise, they're just plain old cream puffs you can get at Beard Papa's. (This is not meant as a slight against Beard Papa's, where I am also a frequent and loyal customer.)
Paris, unsurprisingly, is where I've ever had the best profiteroles in the world. A few years back, I came across a life-changing one at a seemingly ordinary bistro Café Constant, owned by the famous chef Christian Constant. It is with deep sadness and regret to report, however, that since the pandemic, that particular restaurant is permanently closed. As a result, my quest for the world's best profiteroles continues.
If you're looking to cool off with a dessert sometime this summer, give one a try when you spot it on the menu.