When in Rome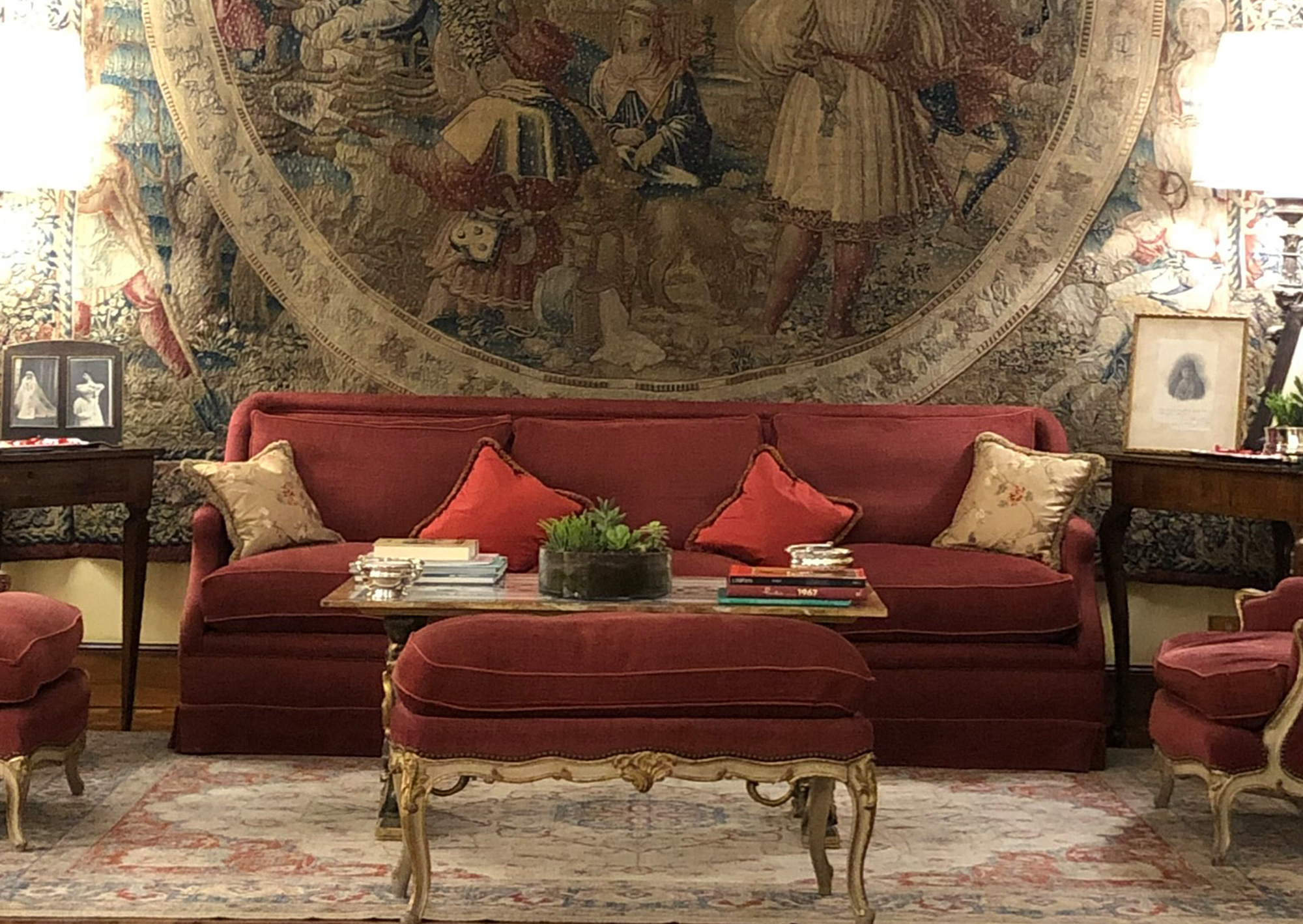 Text by Chanintr Sirisant
There is so much to remember about the Villa Spalletti Trivelli.
Although we stayed only a night or two each time, the overall experience is so rich that I could practically hear the bronze encased buzzer ring at the door and feel the soft slippers at my feet.
Rome, the beautiful tourist attraction that deserves to be, requires a place to stay that is a sanctuary from all the constant flow of bodies, selfie sticks, and poseurs. It requires a place that feels like home. But the Villa Spalletti Trivelli is not just any home, it is the home of people who have lived well and know how to better than most.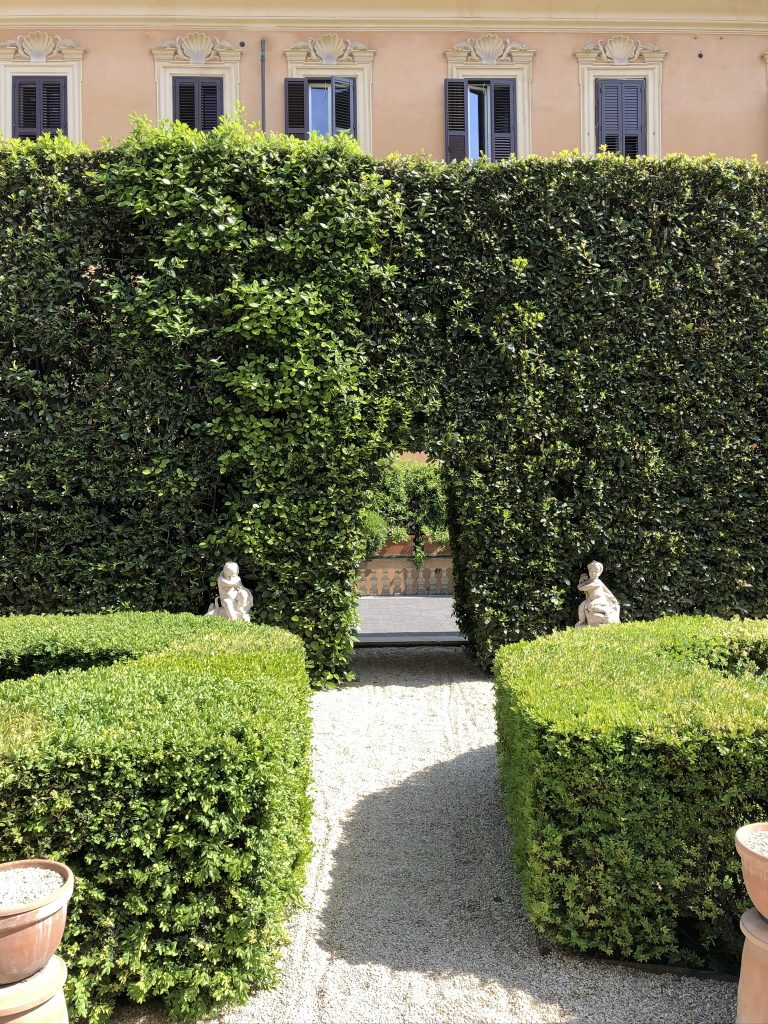 On our first trip, we didn't ask any questions but our senses told us enough to know that this place was special definitely not owned by a chain or a large corporation. It felt personal, like someone took the time to pick exactly which linen would go under which items in the bathroom and which Ginori piece would be used for each of the breakfast dishes being served. It is a meticulous display of attention to detail that should be applauded.
When you arrive, it truly is as if you are arriving at the Cromley's townhome. You ring the doorbell and from there all is taken care of, bags and checking in, while you are led to the manicured Italian gardens at the back of the hotel for a drink of your choice. You notice immediately the sense of quiet and calm.
The rooms are like those in a proper stately home, all different but of the same standard and from the same hand. A beautiful pattern of terrazzo or parquet floors ground the rooms, while blue velvets, perfect white linens, amazing aged wood pocket louvered windows that you rarely see today, and an all white marble bathroom exudes cleanliness and old-school luxury. There is not a creature comfort that has not been thought of.
We especially loved the drawing room, library and breakfast room on the ground floor.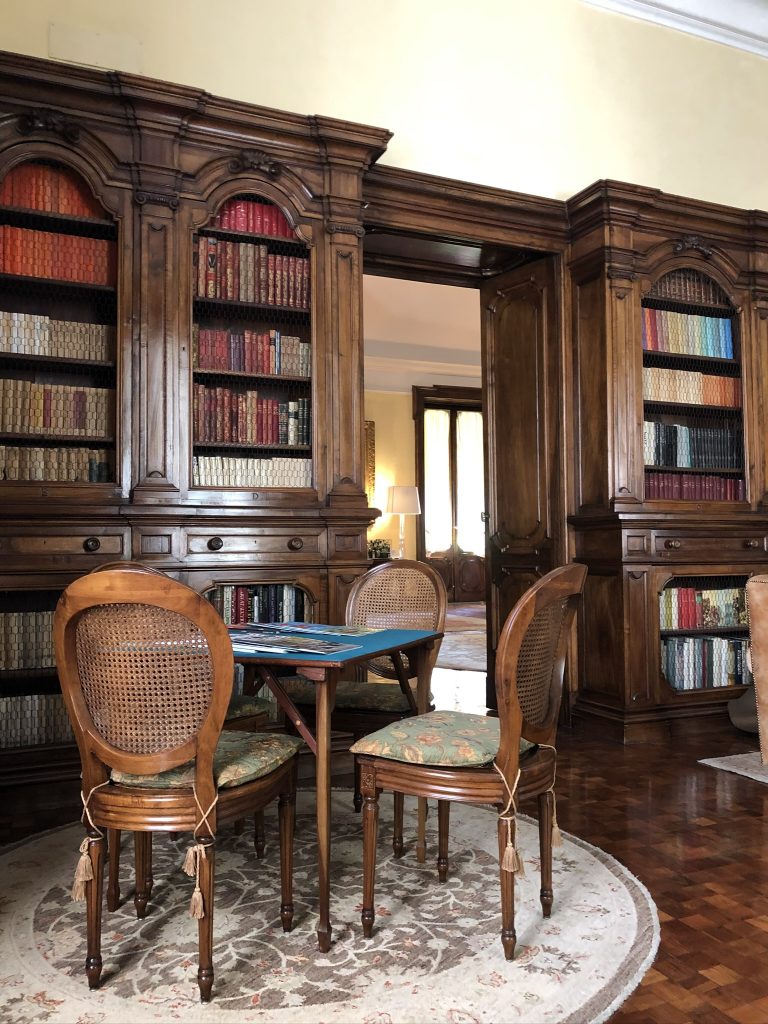 Two large sofa settings anchor the drawing room on each side in blues and reds that reflect the large tapestries hanging behind them and the Persian carpets beneath.
On one side an honor system open bar with a perfectly edited selection of drinks atop an antique console. On the other a tall secretary is filled with chinoiserie ceramics. In the adjoining room is the library walled with antique bookshelves, reading chairs and a game table for four. Both rooms are perfect for that afternoon break after battling the ancient sites, or to work off that carbonara from da Cesare.
Although I'm usually not a fan of breakfast buffets – probably because of the quality and hygiene of most – the one at the Villa Spalletti is just so beautifully presented, thorough, thoughtful and of excellent quality that it makes it difficult not to fall in love with it. Nine different preserves and spreads are in blue and white pottery with their names written on. Four different breakfast cakes are presented in glass domes in stands. Vienoisserie stay warm and crispy in linens inside a silver warmer. A perfect still life worthy bowl of fruits centers the table and a precise square acrylic box keeps the cheese selections cool and away from the noses that mind it. All of this is blanketed by a light green table cloth, silver service and custom Richard Ginori tableware with the Villa Spalletti Trivelli crest painted on them.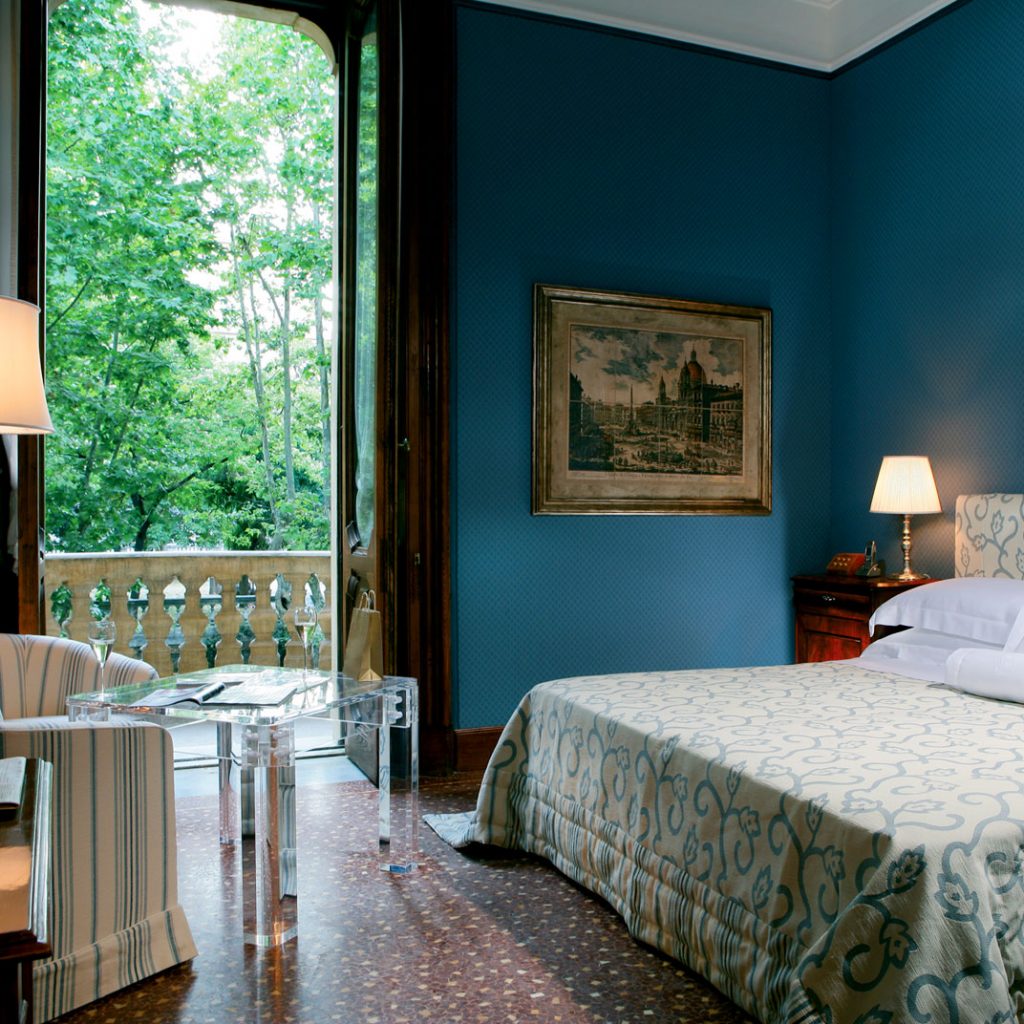 All that I have mentioned is just the hardware, which is already difficult to do tastefully and naturally, but the software is the same. Quiet, calm, and always at your service when needed. Ring the doorbell and they are there immediately, same when you fancy a drink and a snack in the drawing room, or if you'd like your eggs over easy and not too runny with pancetta crisps on top. Their standard of service again is that of a fine home, reflecting the owners, you are their guest as much as the owners. It is no surprise then that the Villa Spalletti Trivelli is really a home and the current owner, Giangiacomo Spalletti Trivelli, still lives here as his family has over the last 100-plus years.
The Villa is perfectly located and a nice 15 minute walk to the Spanish Steps, less than 10 minutes to the la Rinascente department store as well as new food hall at the Centrale Stazione.